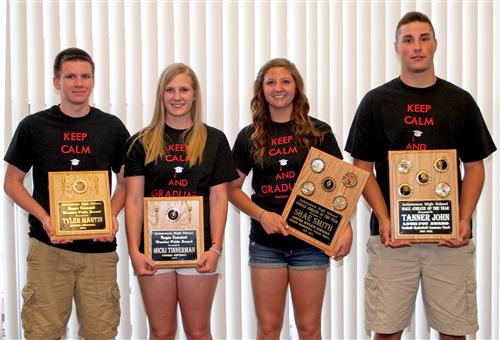 The Roger Crandall Warrior Pride Award honors Mr. Roger Crandall, a coach, physical education teacher and athletic director for over 20 years. This "Warrior Pride" Character and Courage Award is presented annually to one or two multi-sport male or female athletes who exhibit the highest degree of character and courage while competing in athletics. The 2013 Roger Crandall Award was given to Tyler Martin, and Mickey Tinnerman. Tyler played soccer and baseball, and Mickey played soccer and softball. They both exhibited leadership as team captains and earned spots on multiple all-star teams.
The Anita Oyler Female Athlete of the Year Award is given in honor of Anita Oyler, who was a physical education teacher, one of the first girls' coaches, and an overall pioneer of girls' sports at Salamanca school. This year's recipient was Shae Smith, a three sport athlete who was a key member of the varsity girls' soccer, basketball and track and field teams. She has played soccer all 4 years of high school, making the Cattaraugus County all-star team and winning a WNY scholar athlete award. She was on the Section 6 Class C winning basketball team and was the team captain her senior year. In track she was a two year team captain and a versatile competitor in ten events. Shae ended the season as the Section 6 Pentathlon Champion.
The Lou Foy Male Athlete of the Year Award is named after the late Lou Foy, who was a coach of many sports, the athletic director and teacher at SCCSD for many years. This year's Male Athlete of the Year Award was presented to Tanner John, a four sport athlete participating in football, basketball, lacrosse and track. As football quarterback his senior year, John had four school records for the season – most passing yards, attempted passes, completed passes, and passing yards, and a tie for most rushing TDs. He led the basketball team in rebounds, was lacrosse team captain, and in one season on track ran to no. 3 in the school records as a sprinter.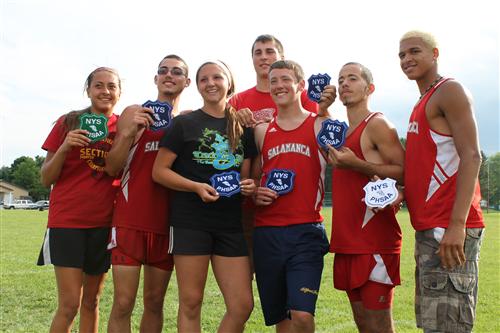 Track & Field Sectional Results: Alyssa Coustenis 4th in Pole Vault, Sal Seitz nd in 110 Hurdles and 1st in 400 Relay, Anibal Santiago 1st in 400 Relay, Damion Taylor 3rd in Pentathlon.4th in Pole Vault and 1st in 400 Relay, Shae Smith 1st in Pentathlon, Tanner John 1st in 400 Relay, Evan Harrington 2
Salamanca finished the two day County Championship meet with 3 county champions and 2 broken school records. The 400 relay team of EvanHarrington, Sal Seitz, Anibal Santiago, and Tanner John finished in first place; Alyssa Coustenis cleared 9 feet 6 inches in pole vault and finished the day breaking the school record and as a county champion; and after many years of hurdling, Evan Harrington finished the weekend in first place and he also broke our school record with a time of 15.41 seconds in the 110 hurdles.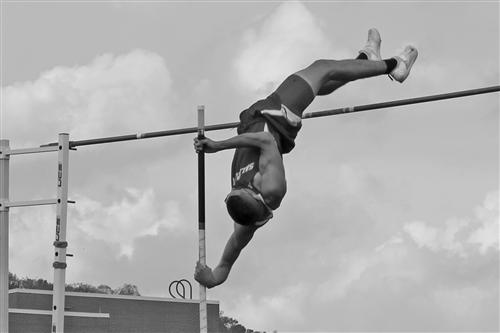 Senior Sal Seitz won the pole vault event at Allegany-Limestone clearing 13 feet 7 inches. Not only was this a personal record for Sal, but at the same time he broke the Salamanca school record. 13 feet 6 inches was the record set by Paul Nye back in 1977. Sal has worked hard toward this goal attending several different pole vault clinics, working closely with Salamanca Coach Laurie Lafferty-John, and even consulting help from some of his opponents at times. Sal's hard work, determination, and selfless attitude all have aided in him earning this well-deserved school record.
Dusty Lewis, going in as a wild card, finishes in 4th place at the 2013 NYSPHAA Wrestling Championships.
The Boys' Bowling Teamare the League Champions for the first outright title win since 1993!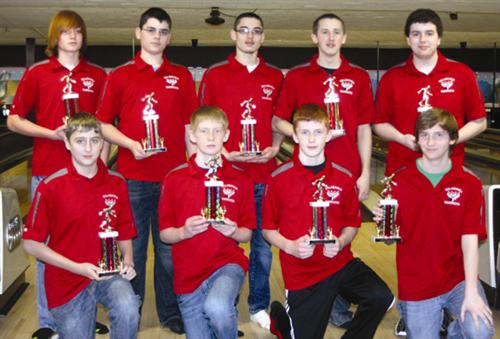 Tanner John was named WIVB Scholar Athlete for January 2013. See the News 4 interview HERE.
Mike Morris, forward, and Evan Harrington, defender, were named to the Soccer First-Team for CCAA Division 2. Morris was also named League Offensive MVP.
Micky Tinnerman earned a spot on the Big 30 All Star Team for the 2012 Season.
Shaelyn Smith was named a Winner of the Scholar Athlete Award and Marisa Huffman was named as an Honorable Mention Scholar Athlete by the New York State Public High School Athletic Association. Both varsity soccer players, they have maintained high academic averages while bringing the same drive and dedication to the field.
Warrior QB Tanner John, linebacker Cam Caputi and defensive end Dusty Lewis were all named to the Big 30 All-Star team.
The Post-Journal Swimmer of the Week for November 4-10, is Swimmin' Women team member Lindsay Forthman. She finished 6th overall at the section 6 and 3rd in Class C as well as breaking two school diving records.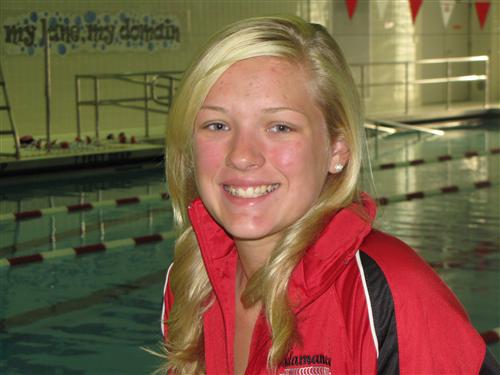 The Swimmin' Women completed their season undefeated as Division 2 CCAA Champions!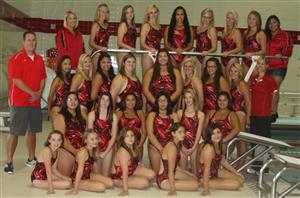 The Warriors Varsity Football team is the Class C South Champion for 2012-2013!