SALAMANCA CITY CSD EMPLOYMENT OPPORTUNITIES
The SCCSD is a Federal Student Loan Forgiveness Eligible District!
Closed Positions:
Positions that have been posted and have passed the allotted posting time:
Reading Specialist - Seneca Intermediate
Teacher Assistant - Seneca Intermediate
2020-2021 Closed Positions:
Junior Accountant
Assistant Varsity Swim Coach
Teacher Assistants
Long Term Substitue Teacher Assistant
Security Personnel - Part Time
HomeSchool Coordinator
Teacher Assistant - Seneca Intermediate
Chief Equity & Diversity Officer
LPN for Bus and Classroom Support
Spring Sports Coaching Positions
Winter Sports Coaching Positions
Universal Pre-K Teacher
Kindergarten Teachers
Computer Technology Teacher
Speech Teacher
Assistant Director of Pupil Personnel Services
Native American Counselor
Speech Teacher
Special Education Teacher
PRINTABLE APPLICATIONS & Forms
CONTINUOUS RECRUITMENT OPPORTUNITIES
The Salamanca City Central School District is accepting applications for: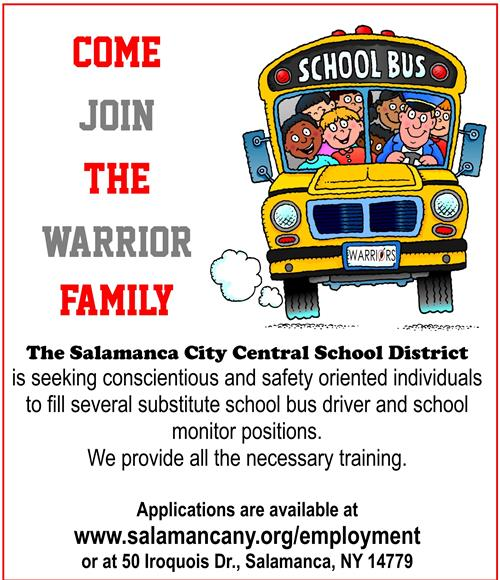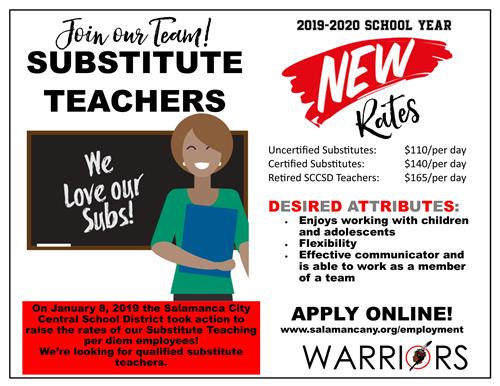 Substitute Teachers Needed!
Qualified candidates are currently sought for the position of substitute teacher. Substitute teaching is a rewarding part-time job for those who enjoy working with children. To apply, applicants should have at least a two year degree or 60 college credits as well as some experience working with children. Print and fill out the PDF employment application provided above. Turn in the completed form at the Superintendent's Office, 50 Iroquois Drive, Salamanca. Your application will then be reviewed and you will be notified if you qualify for an interview.
Substitute Teacher Pay Rates:
Certified Teachers working as a Substitute are paid $140.00 per day for the first 30 days.
Non-certified Teacher Substitutes are paid $110 day
Retired SCCSD Teacher $165/day.
Non-Classroom Professionals:
SCCSD employs numerous classroom and non-classroom professionals: custodial, clerical workers, keyboard specialists, IT professionals, and building cleaners. SCCSD non-classroom professionals are required to be civil service approved. For more information on the civil service application process and job listings, go to the link below for the NYS Dept. of Civil Service.
NYS Dept. of Civil Service
Disclaimer: You are now leaving the Salamanca City Central School District's Web site. Once you have left the District's Web site, any other Web sites or pages accessed are not under the control of the District and the District is not responsible for the contents of any linked site or any link contained in a linked site, or any changes or updates to such sites. Any Web links are provided to you only as a convenience, and the inclusion of any link does not imply endorsement of the site by the District.
Salamanca City Central School District is in compliance with the US Civil Service Rights Act of 1964 and the Title IX Education Amendments of 1972, Part 86. The District provides equal employment opportunity to all individuals and does not discriminate on the basis of color, race, religion, national origin, ancestry, sex, age or handicapping condition. The 504 compliance officer and The Title IX compliance officer can be reached at (716) 945-2400 ext. 4019.The Salamanca City Central School District is an Equal Opportunity Employer who fully and actively supports equal access for all people, regardless of Race, Color, Religion, Gender, Age, National Origin, Veteran Status, Disability, Genetic Information or Testing, Sexual Orientation and Gender Identity or Expression. We prohibit Retaliation against individuals who bring forth any complaint, orally or in writing, to the employer or the government, or against any individuals who assist or participate in the investigation of any complaint, or otherwise oppose discrimination.