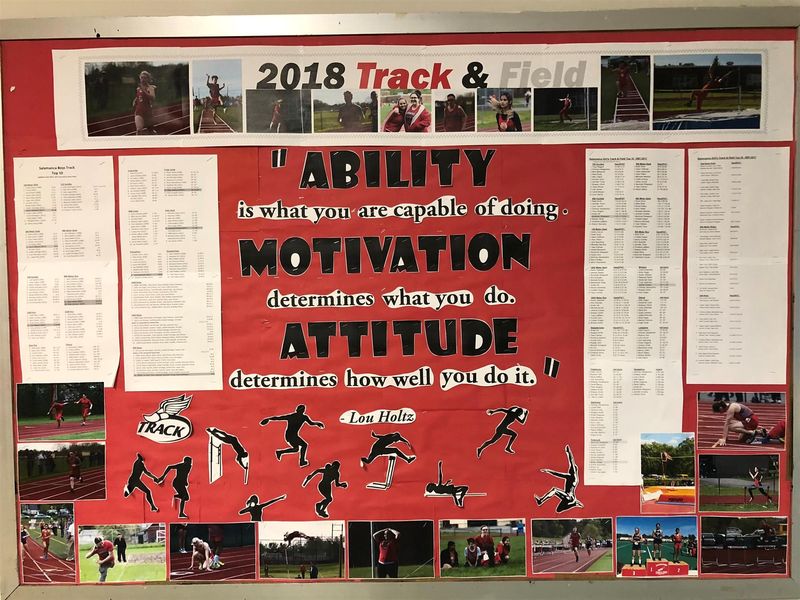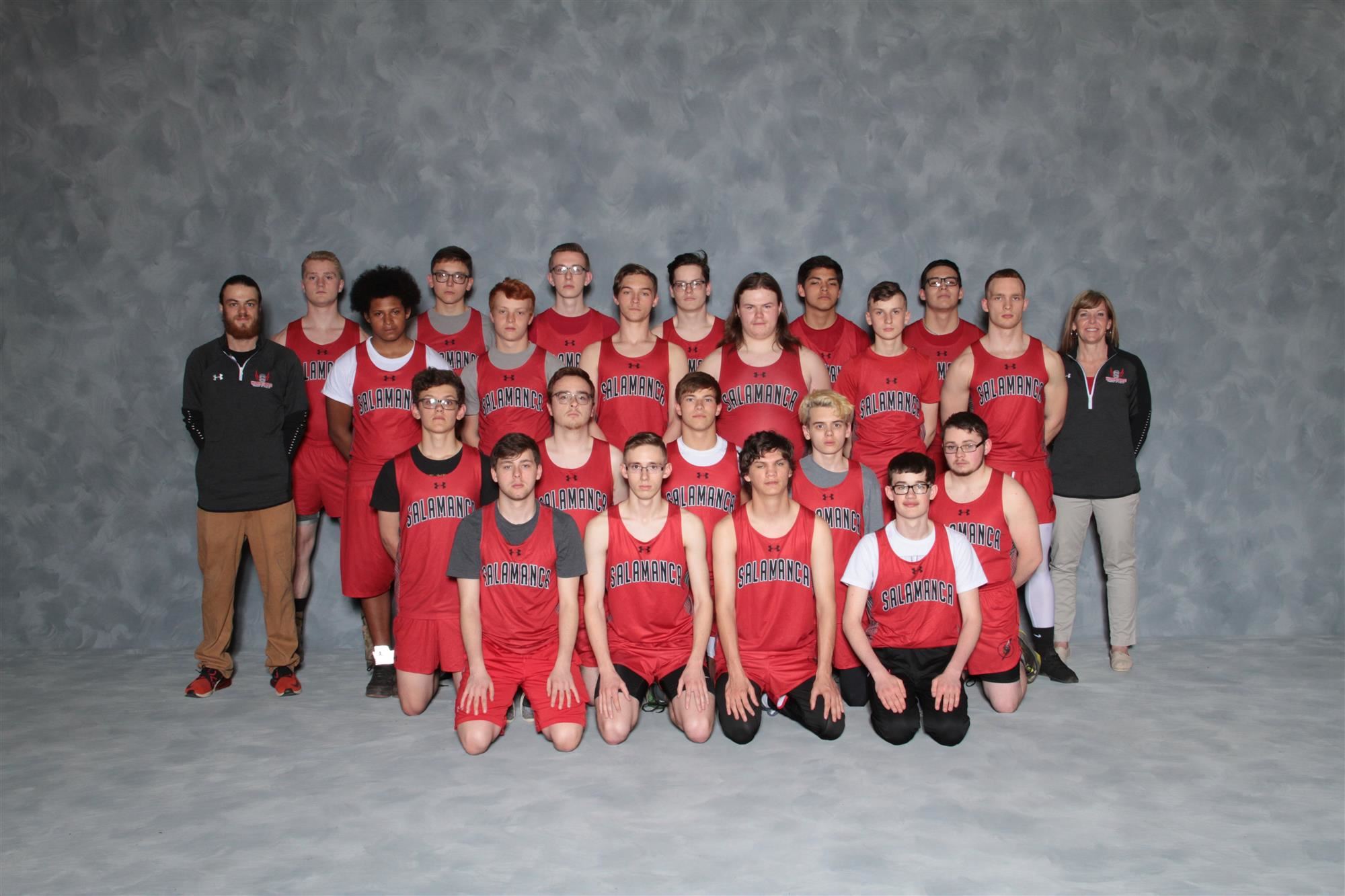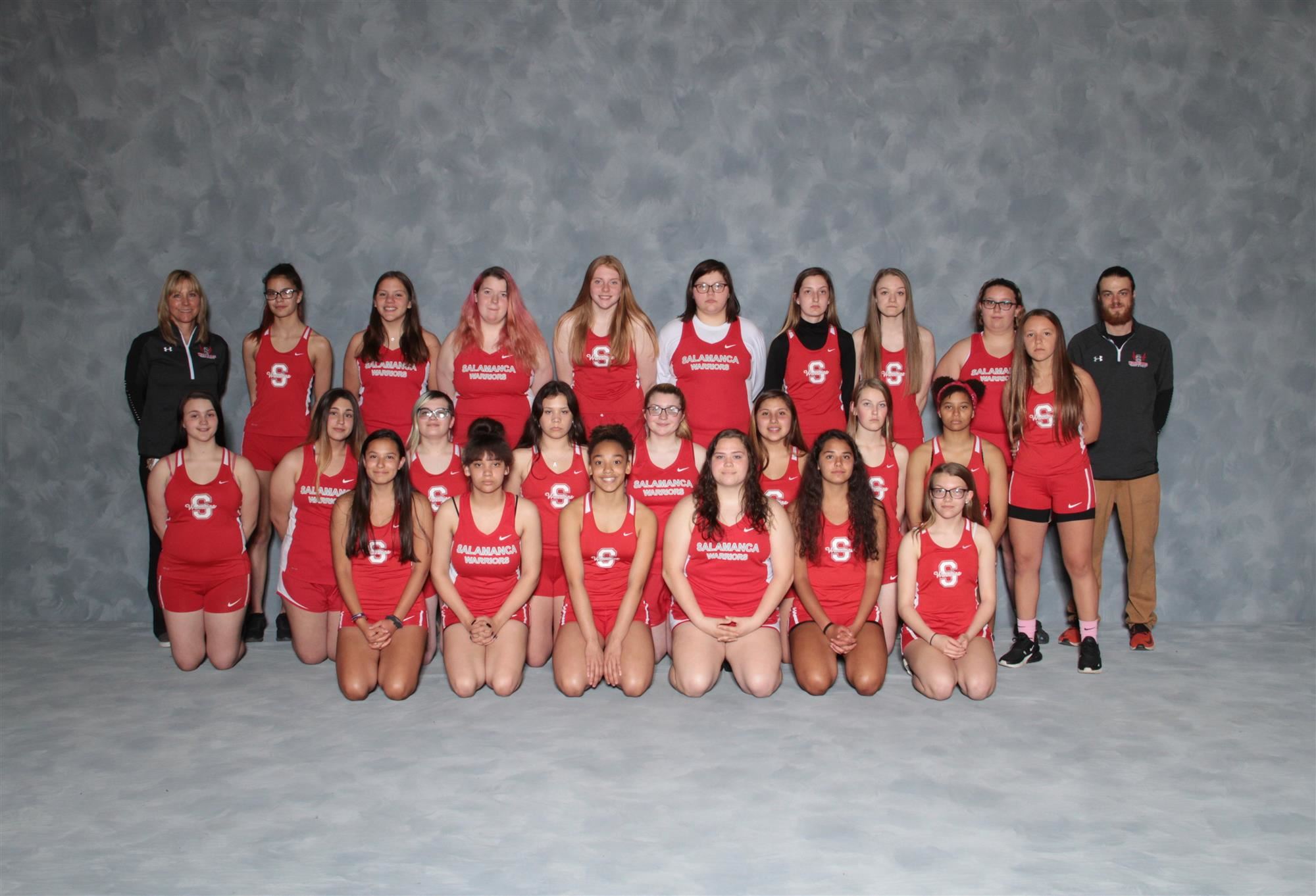 Salamanca vs. Portville - May 13, 2019 (Girls Results):
It was Senior Night at the Foy-Nugent track we were ready for a dog fight with Portville. I told the kids it was going to be a battle against Portville but also against the weather. It was cold but our kids worked hard to not give in to the weather and kept their focus. Our throwers swept both events and that is attributed to Coach Gene Oyers hard work with them. They are getting better every meet and we are really hoping to see some continued improvement ready to peak at the end of the season. Our relays impressed us too. Colson Greene had a sensational come from behind leg in the 3200 Relay and teammate Aliyah Lee continued to increase it. We are still moving kids around trying to find their niche and I those girls did a great job. Jem Yarbour is just on fire. Every meet she PR's in something. She is one of our most dedicated and hard working kids and a real joy to coach. I think Portville was missing a few key athletes tonight and it would have made for a closer meet, but our kids rose to the challenge and we are very proud of their performances. The Lady Warriors Track and Field team clenched a victory over Portville on their Senior Night. Running her last dual meet ever on this track was triple winner Mushirah Sheppard winning the 100, Long, and pole Vault. Teammate Ryleigh John was right behind with her double crown taking the 1500 and the 800. Another double winner is freshman Jem yarbour in the 100 hurdles and High jump. She also took a 3rd in long. other first place finishers for Sally high were Holly McGonigle in the Shotput with a Personal record of 28-08, she also took a 2nd in shotput, Jillian Rea threw for 1st place in the discus and a 2nd in the shotput. Aly Hill took 2nd in the triple jump. Other place finishers were: harley Brown 2nd in 400 hurdles, and 3rd in 100 hurdles. Crystal Clark 2nd in the highjump. Dakota Familo 3rd in the 100 meters and 400 hurdles. Hayli Wilson 2nd in the 3000 and 3rd in the 1500. Jayla Rasha 3rd in the 400. Aliyah Lee was 3rd in the Polevault with new PR and 3rd in the 800. Leann Smith was 3rd in the 200 meters and highjump and Heather ground ran the 3000 meter taking 3rd place. Hannah Klusek took 3rd in the shot and Jaeden hubbard 3rd in Triplejump and in the discus. Kaloni McNeil had a PR by over 5 inches in the longjump. Outstanding job ladies.
3200 Relay- (S)- Hayli Wilson, colson Greene, Aliyah Lee, and Ryleigh John T- 12:09.50
100 Hurdles- Jem Yarbour (S), Ensel (P), Brown (S) T- 18.80
100 Dash- Mushirah Sheppard (S), Je. Daley (P), Familo (S) T- 13.2
1500 Run- Ryleigh John (S), Marshall (P), Wilson (S) T- 6:01.8
400 Meters- O. Dean (P), Denning (P), Rasha (S) t- 1:11.40
400 Hurdles- Ensell (P), Brown (S), Familo (S) T- 1:22.8
800 Run- Ryleigh John (S), Marshall (P), Lee (S) T- 2:50.1
200 Meters- Ja. Daley (P), Je. Daley (P), Smith (S) T- 27.9
3000 Run- Marshall (P), Wilson (S), Ground (S) T- 13:15.8
Longjump- Mushirah Sheppard (S), childs (P), Yarbour (S) D-14-09.75
Triplejump- Childs (P), Hill (S), Hubbard (S) D- 28-11.50
Shotput- Holly McGonigle (S), Rea (S), Klusek (S) D- 28-08
Discus- Jillian Rea (S), McGonigle (S), Hubbard (S) D- 63-07
High Jump- Jem Yarbour (S), Clark (S), Smith (S) D- 4-02
PoleVault- Mushirah Sheppard (S), Dean (P), Lee (S) D- 8-00
Salamanca vs. Portville - May 13, 2019 (Boys Results):
Salamanca vs. Portville - Boys Varsity Track and Field- May 13th, 2019
Team Score –Salamanca 51 Portville 86
Salamanca vs. Catt/LV May 7, 2019 (Girls Results):The Girls track and field team defeated Cattaraugus Little Valley if swift fashion. Jem Yarbour earned 2 first place finishes in the 100 hurdles and Highjump. Mushirah Sheppard was a double winner in the longjump and polevault. Holly McGonigle threw for 2 first place finishes in the shot and discus. Single event winners were Aly Hill in Triple, Hayli Wilson in the 3000 run. Winning Relays were Wilson, Aliyah Lee, Colson Greene, and Crystal Clark in the 3200 Relay. 400 Relay was Dakota Familo, Aly Hill, Jayla Rasha and Sheppard. And the most exciting meet of the day was the 1600 Relay with Familo, Harley Brown, colson Green and Jayla Rasha. First ever point finisher for Salamanca were among: Jazlyn Snyder in the high, Kaloni McNeil in the Triple, hannah Klusek in shot and Leann Smith in the 800 and High. It was a great meet for the lady warriors.
Salamanca vs. Catt/LV (May 7, 2019(Boys Results:Congratulations to the boys varsity track and field team that had a commanding win over Catt Little Valley last night with a score of 94 to 37. 7th grader, Arlen Newark led the way for the team with three individual first places in the 1600 meter, 800 meter and 3,200 meter run. He was also a member of the winning 3200 meter relay. Kohl Ambuske had a pair of firsts in the 110 hurdles and high jump. Caleb reed had an exciting win in the 100 meter dash and a close 2nd in the 200 meter. Jacob Craumer improved his time in the 3,200 earning a second place. The Warriors swept the pole vault event with Nick Greene taking 1st, Tristen Gillette earning 2nd and Zach Cotter placing 3rd. Tyler Hedlund remains consistent in the jumps with a 1st in long and 2nd in triple. Seth Bocharski and Will Meyer earned 2nd and third places in both shot and discus. Ira John remains solid in the sprints earning a 3rd in the 100 and anchoring the winning 400 relay. Zach Helms sprinted his way to a 1st in the 400 meter with Robert McLarney coming in 2nd. Jordan Ground ran his best of the year in the 200 meter dash. The team swept all three relays which made a huge impact on the overall score. Great job on a true TEAM win!
Salamanca vs. Allegany-Limestone, April 29, 2019 (Girls Results):The girls track team posted 18 personal best times in their meet against Allegany Limestone in which the Gators won the total meet. Mushirah sheppard won 3 individual events in the 100, Long, and Pole vault. Aly Hill won the 200 and Jillian Rea won the Shotput event. Jem Yarbour had a great meet posting 2 personal records and taking a 2nd place in the 100 hurdles, and 3rd in the Highjump. Ryleigh John took a 2nd place in the 1500 and 3rd place in the 800 and longjump. Holly Mcgonigle took a pair of 2nd place finishes in the shot and discus. Jayla Rasha took a 3rd in the 1oo and 2nd in the 200. Colson Greene was 3rd in the 200 earning a team point. harley Brown took 2nd in the 400 hurdles shaving 2 seconds offf her best. Other girls who posted personal records were aliyah Lee (1500 Run), Jaeden Hubbard (shotput), Maggie Wilson Discus, Hannah Klusek discus, Becca Oakes longjump, Kaloni McNeil triple jump, Jazlynn snyder highjump. The lady warriors next meet will be an invitational at Hornell.
Salamanca vs. Chautauqua Lake, April 8, 2019 (Boys Results):The depth of the Chautauqua Lake boys, especially in the distance events, was too much for the Salamanca Warriors. Quintero and Graham led the way for the Thunderbirds as double individual winners. Quintero won the 800 and the 3200 meter while Graham won the 100 m and the long jump. Quintero was a member of the winning 3200 relay and Graham was on the 1st place 400 relay. Salamanca was led by triple individual winner (110 hurdles, 400 hurdles, HJ) Kohl Ambuske and double winner in the throws, Seth Bocharski.
Salamanca vs. Chautauqua Lake, April 8, 2019 (Girls Results):Chautauqua Lake was core group of kids, who you can see work hard and have a don't quite attitude. Very impressed with our throws tonight. WE had several personal records and Holly McGonigle is really starting to gain some confidence and threw over 3 feet from her previous best. We had some young girls step to the plate and try some longer races for us trying to find some depth in some of the events.
Salamanca vs. Franklinville-Ellicottville, April 3, 2019 (Girls Results)The Salamanca Track and Field team had their first meet of the season against a combined team of Franklinville/Ellicottville. The depth of their team was a too much for the Lady warriors. Mushirah Sheppard lead the way with taking 2 first places finishes in the 100 and long jump. Ryleigh John won the 1500 Run and was 2nd in the 800. Jaeden Hubbard won the triple jump and showed perseverance and never quit attitude as she ran some tough races today. The 400 Relay of Colson Green, Aly Hill, Sydnie John, and Mushirah Sheppard also took a 1st place. Hayli Wilson had a close race in the 3000 Run and took 2nd. Rookie Harley Brown ran for a 4rd in her first ever 400 hurdles. Leann Smith tied her best In the High jump and took a 3rd. Holly McGonigle had a pair of 3rd place finishes In the shot and discus as well. We had some impressive personal best performances by Jerica Sherlock in both Shot and Discus. Lauren Stoltz In the discus, and Jem Yarbour in the Long jump. We are looking forward to our next meet with Chautauqua Lake on Monday.
Salamanca vs. Franklinville-Ellicottville, April 3, 2019 (Boys Results)Despite a team loss to Franklinville-Ellicottville, the Salamanca Warriors had some great performances on Wednesday night. Junior, Kohl Ambuske led the way for the Salamanca Warriors with three individual firsts in both hurdle events and in high jump. Senior leaders in the throws, Seth Bocharski and William Meyer had an outstanding night. Seth won the shot with Will taking a second. Both young men achieved all time personal bests in the discus, with William playing second and Seth third. Senior, Tristen Gillette sprinted his way to two second places in the 100 and 200 meter dash. One athlete to keep an eye on is 7th grader Arlen Newark who placed second in the 800 meter run in his first varsity meet. Caleb Reed had a great night in the jumps placing second in long and third in triple. Salamanca won 2 of the 3 relays. The winning 400 relay team was Zach Helms, James Weaver, Caleb Reed and Tristen Gillette and the 1600 relay consisted of Ambuske, Newark, Gillette and Helms.