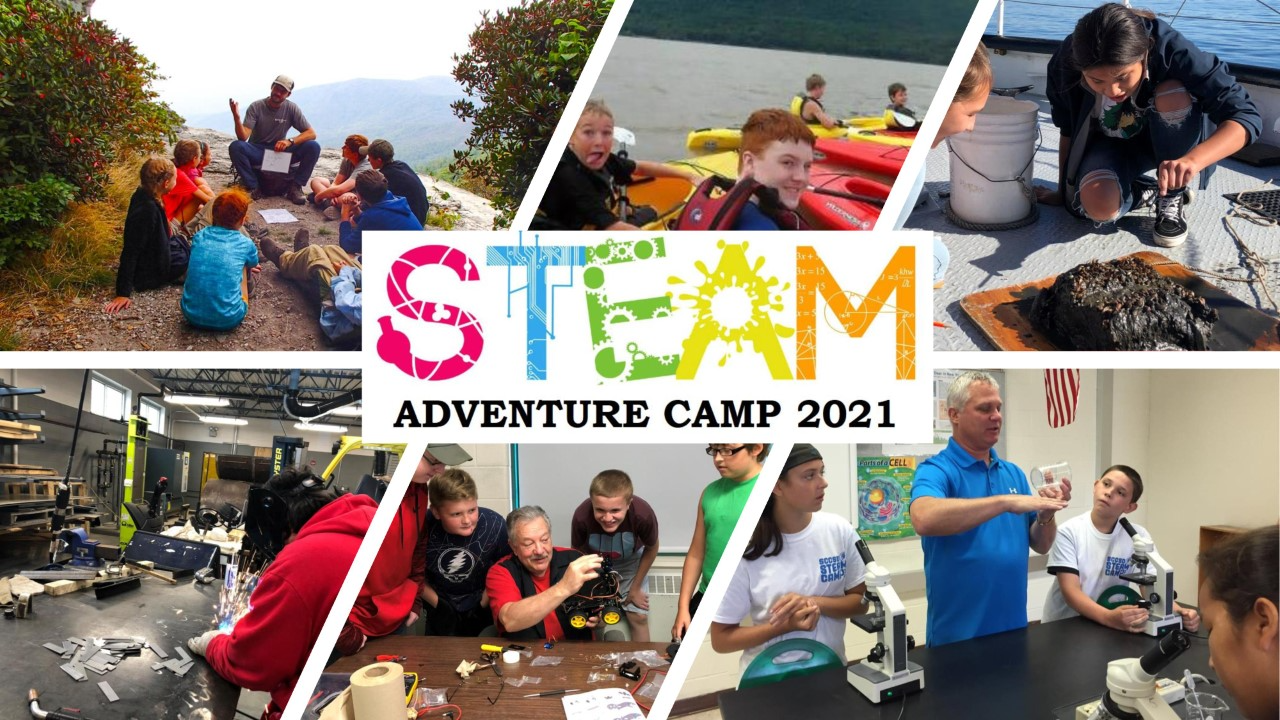 June 2021
Dear Parents/Guardians:
The Salamanca City School District is thrilled to announce the launch of our fourth, annual STEAM-Adventure Camps.

STEAM Camps are for students looking for a fun and creative summer experience beyond the four walls of the traditional academic disciplines. Most camps are Monday-Thursday afternoons, 12:30 pm –3:30 pm, right after High School Summer School, and Camp Scholar. These camps are FREE for district residents and $50 for non-residents.
This year we have several virtual camps returning as well as our in-person STEM, technology & outdoor camps. Additionally, we offer transportation to Camp Inquiry (Springville, NY), Tech Unleashed (Olean, NY), and several outdoor camps at various park locations. Camp Inquiry is in partnership with the Fredonia STEP program. The STEP Program is a FREE, grant-funded outreach initiative that provides Science & Technology enrichment opportunities to registered students at Salamanca City Central School District. The program sponsors Salamanca's annual STEAM Fair as well as field trips, tutoring services, and this year's Camp Inquiry.
The in-person camps are denoted with "IP." The 100% virtual camps are indicated "V." Unless otherwise noted on this STEAM Camp application from the parent/guardians, we will assume that all in-person registrants for camps will require bus transportation and are not authorized to walk home.
As usual, please read the individual camp descriptions for appropriate clothing, footwear, or registration notes. If your child or member of the household is sick, had a fever over 100°, or experienced cough, shortness of breath, chills, fatigue, muscle aches, headache, loss of smell or taste within the last 24 hours, please keep them home during the in-person STEAM Camp. At this point, we are asking for students to bring a mask to the in-person camps.
Registration opens NOW- The cost is FREE for enrolled Salamanca students- Space is limited-
Additionally, the Summer Lunch Program is available from 11 am-12:30 pm in the Seneca Intermediate Cafeteria to ALL district students.
All applications must be submitted by Wednesday, June 30th, 2021, at noon! If you have any questions, please do not hesitate to reach out to STEAM Camp Coordinator Aaron Straus, astraus@salamancany.org, or Adventure Camp Coordinator, Gene Jankowski at gjankowski@salamancany.org!
Camp Registration Link: https://forms.office.com/r/MfHL587ijh
SUMMER 2021 CAMPS AVAILABLE:
(V) Maker's Empire
Date: July 26-30
Time: 4:00PM - 5:00PM
Grades: 5-8
Makers Empire 3D is a 3D modeling computer program used by the school for STEM classes. Students will develop their design thinking skills in this exciting virtual summer camp and build their creative confidence using Makers Empire's 3D design tools.
(IP) ESports Gamming & Scrimmage Camp
Date: July 5-8
Time: 12:30PM (Camp Starts)- 3:30PM (Dismissal)
Grades: 8-12
Are you a casual gamer or an aspiring Esports athlete? If so, this Esports/Video Gaming summer camp is for you. During this (InPerson) Esport camps, students will have an opportunity to learn ESport game strategies, improve their skills individually and work in teams.
(V) Virtual Reality with CoSpaces
Date: July 12-16
Time: 4:00PM - 5:00PM
Grades: 5-8
CoSpaces is a mixed reality web-based application that allows students to build, code, and explore their own creations in VR or AR while learning essential digital skills. During this Bring your Own Device (BYOD) virtual camp, campers will learn how to create their own virtual environments using the CoSpaces App.
(IP) 3D Printing, Awesome Design
Date: July 12-16
Time: 12:30PM- 3:30PM
Grades: 5-8
Maker culture has undergone an incredible evolution in the last decade as 3D printing capabilities continue to rapidly evolve. Whether fixing your favorite toy's broken part or building your 3D printed city, this summer camp will empower students with the fundamental understanding and experience with the software and hardware responsible for custom 3D printing. During this (InPerson) camp, students will spend the week using a CAD (computer-aided design) software program called Fusion 360 and learning how to break down real-world objects into 3D shapes. They will also explore the 3D printing process, Fusion 360, setting up their models for printing in an application called Cura, and then printing them on the school's 3d printers. Each student will leave camp with custom-designed, 3D-printed objects.
(V) Robotify: Virtual Robotics
Date: July 19-23
Time: 4:00PM - 5:00PM
Grades: 5-8
Robotify is an online software the school uses to teach coding and robots. During this hands-on (virtual camp), students will code their way through a series of virtual challenges, including Drone Parks, the Great Barrier Reef, and a Science-Fiction Environment.
(IP) Snorkeling & Water Ecology
Date: (pick one day) July 19th or 20th or 21st
Time: 12:30PM- 3:30PM
Grades: 5-12
Snorkeling is the practice of swimming on or through a body of water while equipped with a diving mask, a shaped breathing tube called a snorkel, and usually swimfins. During this one-day (InPerson) camp, students will learn snorkeling skills and discover local underwater animals and habitats. Campers should arrive with a refillable water bottle, sunscreen, swimsuit, towel, hat, hiking shoes, bug spray, and clothing that can get wet!
(IP) Part 107 Drone License
Date: July 19-22
Time: 8:00AM - 3:30PM
Grades: 10-12 (age 16+)
An unmanned aerial vehicle ( UAV), commonly known as a drone, is an aircraft without any human pilot, crew, or passengers on board and requires a license to play this vehicle remotely. This camp introduces students to the FAA's Part 107 non-hobbyist small Unmanned Aircraft Systems (sUAS) regulations and the associated Part 107 Certification test. By the end of this workshop, students will be more prepared to pass the FAA Remote Pilot Knowledge Test successfully. This course is not a prerequisite for any drone-related courses at Salamanca High School or Project SAMI participants. Still, it is recommended students in the Project SAMI program obtain the Part 107 Certification after completing this four-day STEAM-Adventure review camp in preparation for their SAMI course of study.
(IP) Extreme Robotics: 3D Printing & Applied Electronics
Date: July 19– 22; July 26 – 29
Time: 12:30PM - 3:30PM
Grades: 7-12
Support: Students will engage in 3D printing, coding, and electronic theory in this cutting-edge design engineering camp to design and build a working, 3d-printed robot arm.
(V & IP) Rubik's Cube: Problem Solving Design
Date: (Virtual) July 26-27; (InPerson) July 28– 29
Time: 1:30 (Camp Starts July 26– 27); 12:30PM (Camp Starts July 28– 29)- 3:30PM (Dismissal)
Grades: 5-12
The Rubik's Cube is a 3-D puzzle invented in 1974 by Hungarian sculptor and professor of architecture Ernő Rubik. Originally called the Magic Cube, the puzzle teaches algebraic problem solving, patterns, and graphing. During this hybrid (InPerson and Virtual) camp, students will learn to explore logic and teamwork through engaging and interactive challenges.
(V) Camp Champion, Design Thinking
Date: August 2-5
Time: 1:30PM - 3:30PM
Grades: 4-7
Design thinking is a non-linear, iterative process that teams use to understand a market, challenge assumptions, redefine problems and create innovative solutions to prototype and test. During this (virtual) STEAM Camp, students will apply an inventor-informed Design Thinking Process to take their ideas to market and protect their intellectual property. Students will investigate the game-changing inventors behind their favorite sports. Then, by applying creative problem-solving skills and using inspiration from these great inventors, they develop models for games, equipment, and sports facilities. Finally, students will study the principles of flight with the help of robots, simulators, and hands-on challenges. Space is limited.
(V) Build Your Own Ukulele
Date: August 2- 5
Time: 1:30PM - 3:30PM
Location: Zoom
Grades: 4-8
The ukulele is a four-stringed musical instrument made from wood that resembles a small classical guitar. In this (virtual) STEAM Camp, students will assemble a fully wooden ukulele and personalize it by designing and painting the ukulele body. Campers will learn how to hold the instrument and play basic chords and strumming patterns. Space is limited.
(IP) TECH Unleashed
Date: August 2-6; August 9-13
Time: 10:00 AM - 3:30PM
Grades: 8-12
During this two-week (InPerson) STEAM Camp, students will receive a guided exploration of "Tech Unleashed," including 3d printing, audio/video editing, coding/programming, smart tech, automation, and virtual and augmented reality. Community engagement, leadership, teamwork, diversity, flexibility, and digital responsibility are interwoven into the program as participants become an integral component of their community tech center. Space is limited.
(V) Pocket NC & 3D Design
Date: August 9-12
Time: 12:30PM - 3:30PM
Grades: 7-12
Pocket NC is a 5-axis desktop CNC milling machine used by the school for fabricating metal, wood, and plastic parts for school projects. During this (InPerson) fabrication camp, students will design a project utilizing Fusion 360 CAD/CAM software, prototype a part using 3D printers, and machine a project using the Pocket NC milling machines.
(V) Camp Innovation, Awesome Creation
Date: August 2-5
Time: 1:30PM - 3:30PM
Grades: 4-7
Physics is the branch of science that deals with matter and energy and their interactions. Students in this (virtual) camp will build devices to launch rubber ducks at various challenges through hands-on experiments with trajectory and velocity. Imaginations accelerate as children create a car that can travel across land and has prototype elements for moving through air and water. Students will take care of their very own solar-powered robotic cricket, create protective gear, customized habitats, and fun cricket playgrounds. In the end, they will amplify their creative voice as they reverse engineer a wireless microphone, then develop and promote their own extraordinary invention.
(IP) Camp Inquiry: Science Adventure
Date: August 9-13
Time: 8:30 AM - 3:30PM
Grades: 7-12
Students engage in hands-on scientific inquiry during this STEP-sponsored STEAM Camp, designed to increase their ability to grasp critical scientific concepts. Students will explore the scientific process and how to formulate and test hypotheses, them students to significantly improve their scientific knowledge.
(IP) River Warriors Kayak Camp
Date: August 10 & 12
Time: 9:00 AM - 12:30PM
Grades: 6-12
During this (InPerson) adventure camp, students will learn the basics of open-top kayaking as they paddle in places like the Ohi:yoh' River and Alleghany State Park. Campers should arrive with a refillable water bottle, sunscreen, swimsuit, towel, hat, bug spray, and shoes/clothing that can get wet! No flip-flops, please. Space is limited.
(IP) Hiking & Ecology
Date: August 16-18
Time: 12:30PM- 3:30PM
Grades: 10-12 (age 16+)
In this (InPerson) outdoor camp, students will explore trails and learn about the local ecology. Campers will engage in activities that emphasize basic ecological concepts about habitats, species identification, and how organisms and habitats adapt to change. Campers should arrive with a refillable water bottle, sunscreen, bug spray, and shoes/clothing that can get muddy or dirty! No flip-flops, please.
(IP) 3D Printing: Equipment Mechanics & Technical Mastery
Date: August 16 - 19
Time: 12:30PM - 3:30PM
Grades: 4-7
3D printing uses computer-aided design (CAD) software to create three-dimensional objects through a layering method. Still, issues are bound to arise with any fabricating process. During this (InPerson) camp, students will explore how to use Dremel and/or FlashForge 3D printer, common printing issues, and repair the printer when software correction does not work.