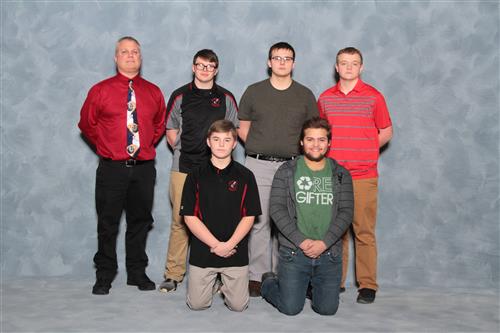 Boys Varsity Bowling Team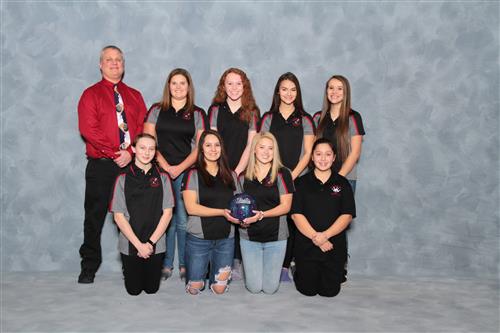 Girls Varsity Bowling Team
Visit: https://wnyathletics.com to view all scoring results
2019-2020 BOWLING SCHEDULE
GAME HIGHLIGHTS
Match Results 2019-2020
Warriors vs. Allegany-Limestone - November 25, 2019The Bowling teams got off to a great start to their season against rival Allegany-Limestone on Monday at Central Lanes. The girls came out on top in a couple of close games to sweep all four games. Emma Fiske led the team with games of 151 and 202 for a team high 502 series. Maeghan Collins rolled a 155 game, and new bowlers Kaihalla George and Zoey Levine did well in their first career match. Great start to the season girls!

Coach Quotes: "It is great to have the veteran leadership from Emma Fiske. She had a great year last year and started right where she left off. She is real consistent with her scores and she can throw a big game in there now and then. I am looking forward to a great senior season from Emma."

Kaihalla George and Zoey Levine stepped into the starting line-up for their first match of their careers. Aly Hill is also back on the team after taking a year off to focus on basketball last season. "We do not win this match without them bowling well. All three of them bowled their best and helped us pull out a couple close games. We were trailing late in two games and they stepped it up. Coach Nary does a great job with the girls. He keeps them focused yet lets them have fun and the girls respond well to that."

Allegany-Limestone went 47 – 1 last season, but graduated six seniors, so they are rebuilding. "I know Coach Spring will get the best out of his young Gator team, so we were fortunate to catch them early in the season. Last year the Warriors went 40 – 0 versus the rest of the league, so if we bowl well against Allegany-Limestone, we can have a very special season. Today got us off to a great start."

The boys team got off to a slow start as they lost the first game, but caught fire after that to win the match three games to one. Eighth grader Dylon Ingersoll led the boys with games of 191 and 198 for a team high 541 series. Captain Justin Blakesslee rolled a 187 game. Quinton Jones bowled a 206, and Eric Murphy bowled a 202 for his career best game.

Coach Quotes:"No one bowled well the first game and we lost a close game. It was not the start I was looking for against our rivals. The boys responded with a huge second game, improving by 264 pins over their first game."

Girls Honor Games:Emma Fiske 151, 202, 502
Maeghan Collins 155

Girls RecordsSalamanca 4 – 0
Allegany-Limestone 0 – 4

Boys Honor Games:Justin Blakesslee 187
Quinton Jones 206
Dylon Ingersoll 191, 198, 541
Eric Murphy 202

Boys RecordsSalamanca 3 – 1
Allegany-Limestone 1 – 3
Salamanca Bowling vs. Ellicottville - Monday, December 2, 2019:The boys and girls bowlers both improved their team records to seven and one on the season. The boys won all four games versus Ellicottville on Monday and the girls won three of four games.
Leading the boys team was freshman Quinton Jones with games of 192 and 223 for a team high 579 series. "Quinton has been working real hard on his game. He participated in the summer bowling clinic this summer at Central Lanes and he is getting comfortable with some of the changes he has made with his game. He is getting real close and that big series will be coming soon," states Coach Jankowski.
Senior co-captain Jordan Ray led the girls by rolling a 150 game and finished with a career high 431 series. Coach Jankowski adds "Jordan and I had a chat before the season. I felt we needed a veteran bowler that can step in and fill the shoes left by the departure of Nora Warrior. We still have Emma Fiske and Maeghan Collins leading the team, but someone needs to step it up and replace Nora. Jordan has done just that for us so far season."
Girls Honor Games:Jordan Ray 150, 431
Girls RecordsSalamanca 7 – 1
Ellicottville 1 – 3
Boys Honor Games:Justin Blakesslee 191
Quinton Jones 192, 223, 579
Boys RecordsSalamanca 7 – 1
Ellicottville 0 – 4
Salamanca Bowling at Hinsdale - Wednesday, December 4, 2019:Quinton Jones led the Warriors in their match at Good Times versus Hinsdale on Tuesday. Quinton strung games of 234, 237, and 205 for a career high 676 series. Hinsdale won three of the four games. Coach Jankowski states "Hinsdale got off to an incredible start as Nate Pinney strung the first ten strikes for a 289 and teammate Ethan Rix rolled a 276. You cannot win with a team shooting scores like that. But our boys adjusted to the lane conditions and came back to win the second game. When we can sneak out a win against the defending champs that is returning all their starters, we will take it." Jon Wiltsie bowled his personal best series finishing with a 556 while senior captain Justin Blakesslee got off to a slow start before firing a 236, for his high game. "Our inexperienced bowlers had to adjust to the lane conditions at Good Times. There are some high scores at that house, but they have to know where to roll the ball. Once they figure they make the adjustments, the scores really improve. We go back there in January, so we will see how it goes against Allegany-Limestone when we return."
The Lady Warriors ran into a team with another hot start as they lost the first game by 49 pins. They quickly rebounded to take a 100 pin lead after game two. They also won the third game and total to improve to 10 – 2 on the season. Senior co-captain Emma Fiske led the team with games of 155 and 159 for a 453 series. Maeghan Collins bowled her best series of the season with the aid of games of 153 and 170. "Our new bowlers faced some big adjustments to what they are used to at Central Lanes. We have to get them used to the different lane conditions that they will face and have them make a good first shot and make their spares. We have a couple of practices left this week and we will work on it. I still am very confident with this team and am excited to see how this season will play out for us, adds Coach Jankowski.
Girls Honor Games:Emma Fiske 155, 159, 453
Maeghan Collins 153, 170
Jordan Ray 152
Girls RecordsSalamanca 10 – 2
Hinsdale 1 – 3
Boys Honor Games:Justin Blakesslee 236
Quinton Jones 234, 237, 205, 676
Jon Wiltsie 200, 193, 556
Boys RecordsSalamanca 8 – 4
Hinsdale 3 – 1
Salamanca Bowling vs. West Valley - Tuesday, December 10, 2019:Senior co-captain Emma Fiske led the Lady Warriors to a four game sweep over West Valley on Tuesday. Emma rolled games of 174, 154, and 159 for a team high 487 series. Junior Maeghan Collins rolled a 161 game and senior Aly Hill bowled a 157. The girls are in first place with a 14 and 2 record.
Coach Quotes: "Emma has led the team for three of our four matches. She is leading the team with a 155 average and she will continue to get better as the season progresses. We need her leadership and experience as our new bowlers get used to different lane conditions and houses for the first time. With Emma, Maeghan (Collins), and Jordan (Ray) bowling well, our new bowlers can adjust to league bowling. We should have a strong finish to the second half of the season."
The boys bowlers put forth their best team effort of the season as they won all four games to improve to 12 and 4 on the season. Jon Wiltsie led the boys with a 201 game and a 539 total. Dylon Ingersoll rolled a 210 for his high game of the season. Quinton Jones had a 192 game and senior captain Justin Blakesslee finished with a 198.
Coach Quotes: "Jon Wiltsie rolled his second 500 series of the season and he currently has a 167 average. He continues to improve. He makes the right adjustments on the lanes, rebounds from a bad shot, and will be a team leader in the future. I know I can count on Jon, whether it is on or off the lanes. This may sound trivial, but I told the kids on Monday to see me in the morning (Tuesday) so I know they are in school and I know they are set to bowl for the match. Jon was waiting for me as I walked into school, and gave me the update on the other bowlers that were there. I have coached since 2002 and I don't think I have ever had an underclassmen take on that type of responsibility."
Girls Honor Games:Emma Fiske 174, 154, 159, 487
Maeghan Collins 161
Aly Hill 157
Girls RecordsSalamanca 14 – 2
West Valley 0 – 12
Boys Honor Games:Justin Blakesslee 198
Quinton Jones 192
Jon Wiltsie 201, 539
Dylon Ingersoll 210
Boys RecordsSalamanca 12 – 4
West Valley 4 – 8
Salamanca Bowling vs. Gowanda - Monday, December 16, 2019:The Lady Warriors improved their first place record to 18 wins and 2 losses as they won all four games from Gowanda on Monday. Seniors Emma Fiske, Jordan Ray, and Alexis Wiles led the team at K & L lanes. Emma bowled the team high game of 169 and the team high series of 458. Jordan rolled a 157 game and a 439 series for her personal bests, and Alexis Wiles bowled her high game of 152.
The boys bowlers also won all four games. Quinton Jones continued his hot streak as he rolled games of 211, 205, and 220 for 636 series. Senior captain Justin Blakesslee bowled games of 196 and 217 for his career high series of 549. Jon Wiltsie got off to a good start with a 190 game. The boys are 16 and 4 on the season, good for second place in the league standings.
Coach Quotes:"Typically the girls bowl well in Gowanda," states Coach Jankowski. That continued as they bowled their best team total of the season. "All three of our seniors bowled well, so that helped lead the way for the Warriors." On the other hand, the boys have not done so well there since Gowanda joined our league. "I think we swept them one year back when we were 47 and 1, but that was it. We knew going in that we were evenly matched and Gowanda was throwing a lot of strikes in the first game. When we came out on top at the end of the first game, that gave us some confidence and we kept it going, shooting our best team total for the season," adds Coach Jankowski.
Girls Honor Games:Emma Fiske 169, 458
Jordan Ray 157, 439
Alexis Wiles 152
Girls Records:Salamanca 18 – 2
Gowanda 2 – 18
Boys Honor Games:Justin Blakesslee 196, 217, 549
Quinton Jones 211, 205, 220, 636
Jon Wiltsie 190
Boys Records:Salamanca 16 – 4
Gowanda 11 - 9
Salamanca Bowling vs. Gowanda - Monday, December 16, 2019:The Warriors managed to sweep all four games from Ellicottville on Monday. Coach Jankowski states "We did not bowl well but we managed to get the wins. I guess we take the wins and move on to our match at Allegany-Limestone tomorrow." Quinton Jones rolled his tenth 200 game of the season and Jon Wiltsie finished with a 191 game. Co-captain Jordan Ray rolled a 151 game and Maeghan Collins bowled a 150.
Girls Honor Games:Maeghan Collins 150
Jordan Ray 151
Girls Records:Salamanca 26 – 2
Ellicottville 6 – 14
Boys Honor Games:Quinton Jones 200
Jon Wiltsie 191
Boys Records:Salamanca 24 – 4
Hinsdale 2 – 18
Salamanca Bowling vs. Allegany-Limestone- Tuesday, January 7, 2020:The Lady Warriors managed to stay ahead of the lady Gators from Allegany-Limestone to win three of their four games. Coach Jankowski states "We did well the first game but they rolled a good game in the second to put us real close heading into the final game. Our girls finished the last game with a surge to win the third game by 10 pins, along with total. This gives us a healthy lead over Allegany-Limestone heading into the last four matches of the season."
Quinton Jones continued his impressive bowling at Good Times this season. With a 676 series earlier in the season against Hinsdale, he came out firing on Tuesday. "Q" shot a 258 game for his high game of the season. He finished with a team high 637 series. His average at Good Times for the season is 218. "Quinton certainly knows how to play the lanes there (Good Times). He was lined up right from the start, and no doubt that bowling there earlier this season was a big factor. He is in the Junior Bowling League at Byllye Lanes in Bradford, and has qualified for the Pepsi Junior Gold tournament in Las Vegas this summer. It is exciting to have a young bowler doing so well, with a bright future."
The rest of the boys got off to a slow start and the Warriors dropped the first game to the Gators for the second time this season. They rebounded well as senior captain Justin Blakesslee rolled a 209 game and eighth grader Dylon Ingersoll bowled a 221. They won the game by three pins and also won the third game by fourteen pins. The two-game split improved the Warriors record to 26 – 6 on the season.
Girls Honor Games:Emma Fiske 155
Girls Records:Salamanca 29 – 3
Allegany-Limestone 19 – 9
Boys Honor Games:Quinton Jones 258, 199, 637
Justin Blakesslee 209
Dylon Ingersoll 221, 194, 566
Boys RecordsSalamanca 26 – 6
Allegany-Limestone 16 – 12
Salamanca Bowling vs. Hinsdale - Tuesday, January 14, 2020:The Lady Warriors were without their number two bowler Maeghan Collins who was home sick. They responded with a four game sweep against Hinsdale using all eight bowlers to improve their first place record to 33 – 3 on the season. Senior co-captain Emma Fiske bowled her personal bests of the season. Emma rolled a 204 game and finished with a 505 series. Coach Jankowski states "It was a great team effort today. All the girls put forth their best. There was a lot of team spirit and they were having fun. It all started with Emma's 204 game to get us off to a good start."They boys picked up their second win of the season against first place Hinsdale. "Hinsdale has lost four games this season, and two of them have been against us. They have the top two bowlers in the league with Nate Pinney (223 average) and Ethan Rix (202). They are a fantastic 1-2 combination. Anytime you can get a win against a team with that kind of talent, it is a minor victory," adds Coach Jankowski. Quinton Jones led the boys with a 222 game and he finished with a 533 series. Girls Honor Games:Emma Fiske 204, 167, 505
Girls Records:Salamanca 33 – 3
Hinsdale 11 – 17
Boys Honor Games:Quinton Jones 222, 533
Boys Records:Hinsdale 24 – 4
Salamanca 33 – 3
Salamanca Bowling vs. West Valley- Wednesday, January 22, 2020:The bowlers continued their winning ways as the boys and girls teams both picked up four wins against West Valley on Wednesday at Central Lanes. The boys bowled their best team game of the season, knocking down 1144 pins in their second game. The boys finished with a season high 3075 team series. "Everyone caught fire that second game. All the boys were striking. We did miss a few spares in there, but it was still a great team effort," states Coach Jankowski. Captain Justin Blakesslee rolled a 225 and finished with a career high 550 series to lead the team. Eighth grader Dylon Ingersoll bowled games of 197 and 187 to finish with a 547 total. Eric Murphy rolled his personal high game of 204, only to beat it with a 208 the next game. Eric finished with his high series of 546. Coach Jankowski adds "Eric continues to get better. He has a great ball reaction, and understands the game. His confidence is growing and now we are seeing the results. This is good timing as we head into tournament time." The boys are in second place with a 31 – 9 record.The Lady Warriors improved their first place record to 37 – 3 on the season. Senior co-captain Emma Fiske had the lone honor game of 155 for the girls. Coach Jankowski adds "We got some things to work on at practice. There is a lack of concentration on a lot of first balls and that needs to be fixed. We have been fortunate to win some games that were closer than we would like. We will certainly take every win, but we need to see some improvement. I know the girls will pick up their game as we head down the stretch."Girls Honor GameEmma Fiske 155Girls RecordsSalamanca 37 – 3West Valley 14 – 30Boys Honor GamesJustin Blakesslee 225, 550Quinton Jones 207Dylon Ingersoll 197, 187, 547Eric Murphy 204, 208, 546Boys RecordsSalamanca 31 – 9West Valley 13 – 31
Salamanca Bowling vs. West Valley- Wednesday, January 22, 2020:The Lady Warriors clinched their first league championship in eleven years with their four game sweep of Catt-Little Valley on Tuesday. Senior co-captain Jordan Ray and junior Maeghan Collins each rolled a 152 game to lead the team.
Junior Eric Murphy led the boys team to a 4 – 0 win as he rolled games of 200 and 195 to finish with a career high 564 series. Senior captain Justin Blakesslee bowled a 225 game and a 536 series. Quinton Jones rolled a 213 and Dylon Ingersoll bowled games of 208 and 188.
Come cheer on your Warriors today at 3:15 at Central Lanes on Senior Night.
Salamanca Bowling vs. Gowanda - Thursday, January 29, 2020:The Lady Warriors won their final match four games to none against Gowanda on Wednesday. The Warriors finished the season in first place with a 45 and 3 record. Senior co-captain Emma Fiske rolled a 155 game in her final game at Central Lanes, and senior Alexis Wiles also rolled a 155 game in her final game. It was Alexis's personal best game. Other seniors bowling in their final league match were co-captain Jordan Ray, Aly Hill, and Kaihalla George. Great season ladies!!Quinton Jones, Corey Gebauer, and Dylon Ingersoll all bowled a 198 game to win the second game of their match. Unfortunately, that was the only game they won, falling to Gowanda three games to one. The boys finished the season tied for second place with Gowanda. Senior captain Justin Blakesslee got off to a good start with a 192 in his final league match. Junior Eric Murphy continued his hot streak with a 211, his personal high game. And senior Dylan Wheeler concluded his league play with a 419 series.Coach Jankowski reflects "It is always an emotional day when the seniors bowl their final home games. They are reflecting on their career, their teammates, their success, and then they have family and friends there, too. Justin and Aly has been a great addition to our team three seasons ago. They are great athletes and great teammates. Kaihalla, Alexis and Dylan joined the team as seniors and all were a part of our success. The co-captains, Jordan and Emma, have been friends for a long time. Emma thanked Jordan for trying out for the team six years ago. They have been there for each other for so many sports seasons and classes in school. The girls winning the league is special for the entire team and Coach Skip Nary, but for Emma and Jordan, it means a little bit more. They were there for a team that was below .500 back in 2014 – 2015. They conclude their career being part of a team that won eighty-six games, with only ten losses in their final two seasons. They will be the first ones to say it's a team game, but they certainly were key parts of the team, especially this season.
Girls Honor Games:
Justin Blakesslee
Quinton Jones
Dylon Ingersoll
Corey Gebauer
Eric Murphy
Updates & Awards
2018-2019 Season: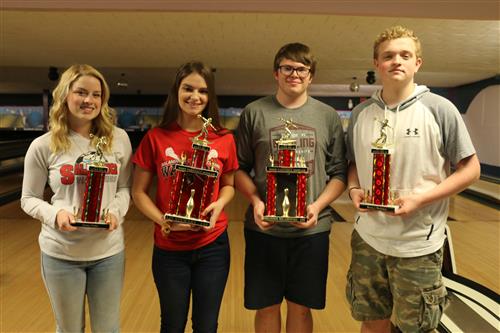 L to R: Emma Fiske – Girls Sportsmanship Winner; Liz Stewart – Team MVP; Brandon Milanowski – Boys MVP; Hunter McAuley – Boys Sportsmanship Winner
The Warriors concluded their season with an awards banquet held at Central Lanes. Coach Skip Nary congratulated the Girls team by going 40 – 0 against the rest of league and going 1 – 7 against the First Place Girls from Allegany-Limestone. He stated that the Lady Gators had four First Team All-Stars, one of which was a recently crowned State Champion in Cameron Spring. Coach Nary said "we will miss our seniors and we wish co-captains Nora Warrior and Liz Stewart the very best in college next fall." Liz was a six year veteran and was the best bowler on the team this season. Liz finished her MVP season with a 146 average. Liz, and her brother Luke (2010-11), are the second brother/sister combination to be Team MVP's. They join Zach (2003) and Kasey (2007) Tucker in that honorary club. Nora Warrior won the Team Sportsmanship award in 2018. Coach Jankowski added that the girls were real consistent from match to match. "If someone had a bad game, someone else stepped it up. Typically a bad game happens and another team sneaks out a win. We had two close games out of those 40, so we managed to find a way to get it done." In addition to their win over Allegany-Limestone, the girls also celebrated two other team accomplishments at the banquet: 1. They were voted the League Sportsmanship Team Winner by the Division 3 Coaches and 2. They were recognized as an All WNY Scholar Athlete team for the 5th consecutive season. Their team GPA was 95.2%. In past seasons, that GPA would put them as a Top 10 Team for highest GPA's for all the girls bowling teams in New York State.
The Boys team managed a third place finish with a senior laden team that had only a little experience on their roster. Twelve of the fifteen bowlers had bowled for only one or two seasons. Yet the boys were able to improve their record from last year by 4 wins, finishing at 36 – 12. Seventh grader Dylon Ingersoll finished with a 151 average. This is the third highest average for a seventh grader. He joins the company of Brandon Milanowski and Quinton Jones who also did this in their first year. Coach Jankowski states "He is looking forward to five more seasons with Dylon and watching him improve. This kid loves to bowl." First year seniors Caleb Reed, Gregory Mitchell and Hunter McAuley were regulars in the starting line-up for the Warriors. All three of them were first year bowlers. "All of them were class acts, fitting in well with the team." Nyles Panus and Owen Reed also will be graduating this year, and although they did not bowl many games, we will miss their team spirit. Quinton Jones improved his 155 final average from last year all the way up to a 191, good for the third highest average in the league! Coach Jankowski says "He is another kid that loves to bowl. I can't wait to see what he does the next couple seasons. The first two have certainly been very impressive … like the best in school history, impressive!"
Captain Brandon Milanowski finishes his career as a two time team MVP. He is the fourth boy bowler to accomplish this since Coach Jankowski took over in 2002-03 and he had the fifth highest average (192) for a Team MVP during that span. "Brandon has quite the bowling resume. He is a five time League All-Star. He has won 3 League Championships, a Sectional title, two Sectional runner-ups, and he rolled the high handicap series at this year's CCAA Roll-offs, finishing with a 767." Coach Jankowski told Brandon "It seemed like you were in ninth grade just yesterday. Where did the time go?" Coach Jankowski continues, "There have been a few kids that have been tough to bid them farewell. Brandon certainly fits into that category, along with Liz. They have been a big part of our success on the lanes for the past six seasons, and academically, as well. They will be missed and it will be real tough to replace with what they did for us as a team. I certainly wish them the very best."
2017-2018 Season:
Bowling Team End of Season Award Winners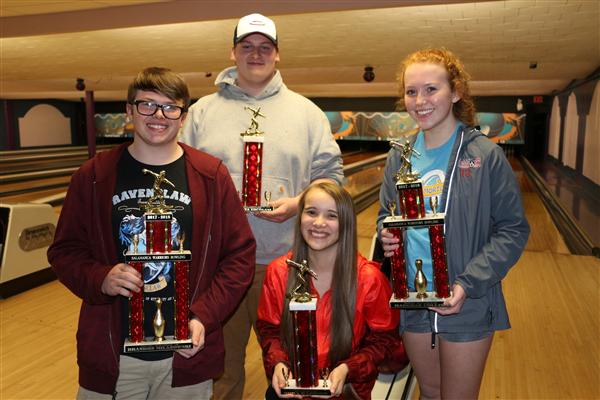 L to R: Brandon Milanowski, Boys MVP (189 average); Dakota Ercolani, Boys Sportsmanship Winner; Nora Warrior, Girls Sportsmanship Winner; Maeghan Collins, Girls MVP (142 average)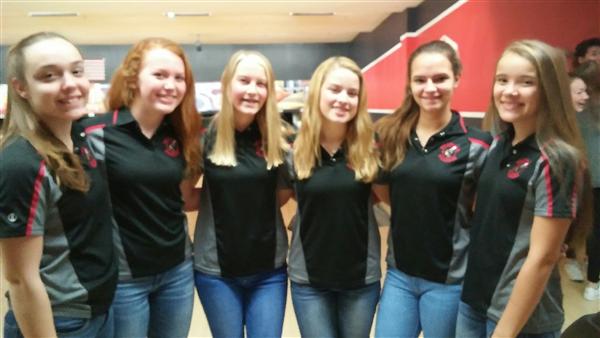 Girls Sectional Qualifiers. Anna Collingwood, Meaghan Collins, Ally Hill, Emma Fiske, Lizzie Stewart and Nora Warrior.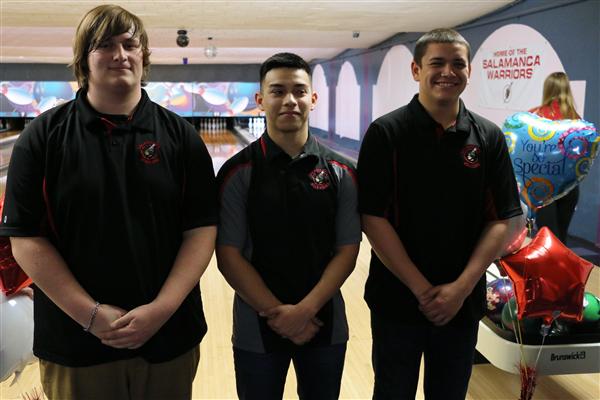 Dakota Ercolani, Austin Reyes and Carson Hoag
Marijayne Schwartz, Anna Collingwood, Savannah Wujastyk, Emily Griffin and McKenzie Rider
Girls Varsity Bowling Team "All-Scholar Athlete Team" for NYS for the Third Straight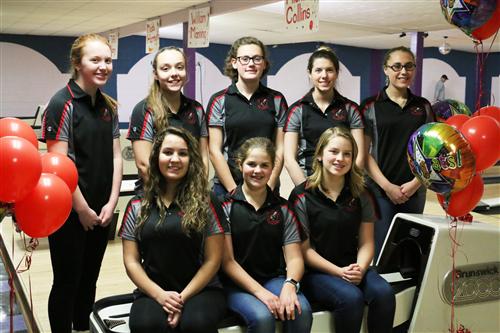 Bowling Team Awards

Tiffany Nary – Team MVP, 144 Average; Maddi Harrington – Team Sportsmanship Winner; Xander Edstrom – Team and League MVP, 202 Average; William Manning – Team Sportsmanship Winner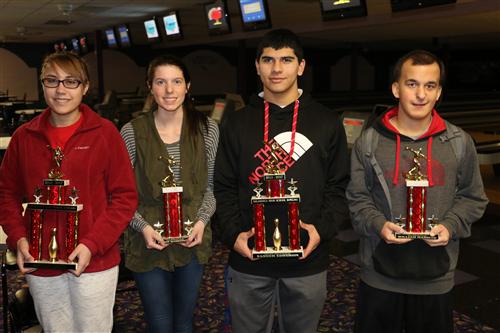 Tiffany Nary named ALL-WNY Scholar Athlete