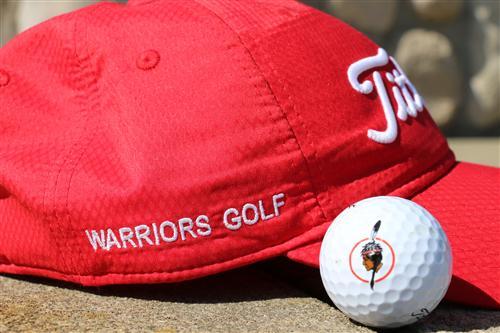 Coach: Mr. Gene Jankowski
Ass't Coach: Mr. Scott Brady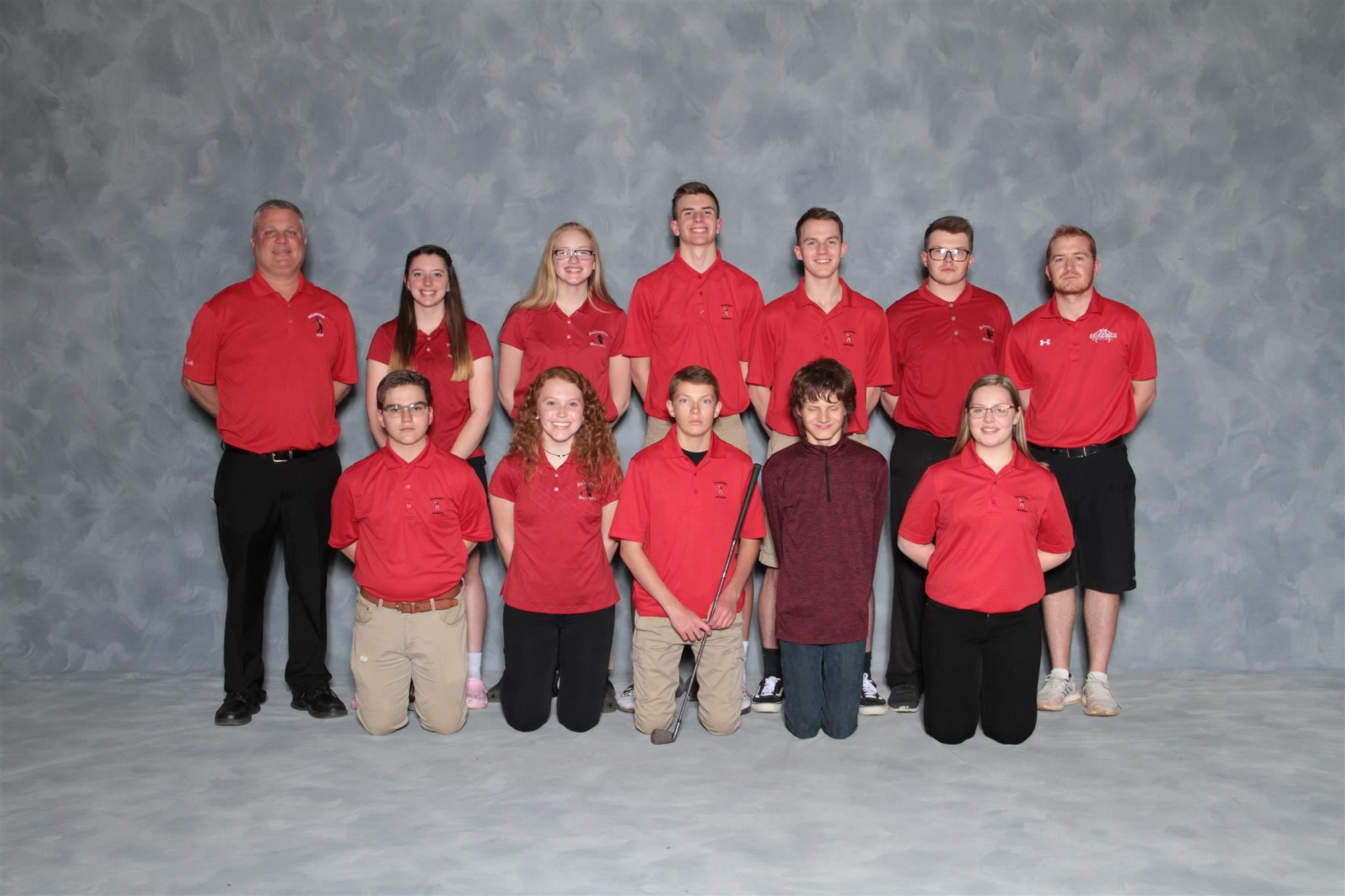 2019 Golf Season Awards and Recognitions: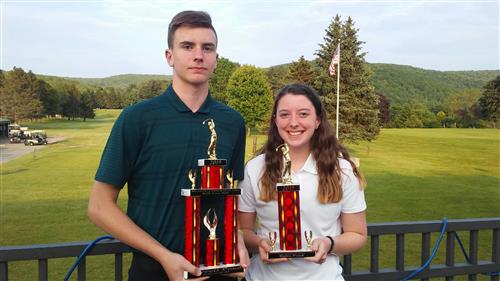 Award Winners: Jarrett Pond (Team MVP), and Haley Pond (Sportsmanship Award)
The Golf Team concluded their season with a team scramble followed by the awards banquet on Tuesday at Elkdale. The team finished with a 7 – 5 league record, good for third place. Their overall record of 10 – 7 was much improved over last year's 5 – 15 overall record.
The team bids farewell to its senior laden roster. Team captain Brandon Milanowski competed in 92 matches over his five year career. He is a two-time team MVP and been a league all-star the past three seasons. He finished second on the team with a 45.7 stroke average and was the medalist in 3 matches this year. Nyles Panus, Leya Slade, and George Gillman have been on the team for a couple seasons, and first year golfer Bryce Taylor will also be graduating.
Jarrett Pond had an outstanding sophomore season, with a 10 stroke improvement from last year. He was a first team all-star (42.8 stroke average), and led the team with being the medalist in 13 matches. Coach Jankowski states "Jarrett told me early on that he was going to shoot well all season. I figured there would be a bump in the road for a match or two, but that never happened. He led the team in every category. I am excited to see more improvement the next two years."
Haley Pond was chosen for the Team Sportsmanship Award. "Haley is a great person and has been there for us when we needed her the past two years. She is a great competitor and we will certainly miss not having her on the team next year," states Coach Jankowski. "This might be the first time in school history that we have had siblings win the two end-of the season awards for us. I know it has not happened since I started coaching in 2009. They are pretty close and it is not uncommon to see them working on their golf game together."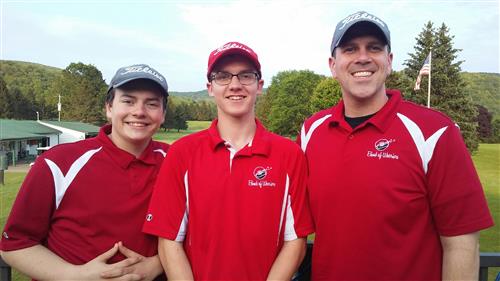 Team "Fore"tisimo won the scramble with a 2 over par score of 37. George Gillman and Justin Blakesslee recruited Mr. Scott Bean (Band Director) to play with them. "It was great to Mr. Bean there. A lot of our golfers are in band so they were happy to hang out with him during the dinner and banquet," adds Coach Jankowski
.2018 Golf Season Awards and Recognitions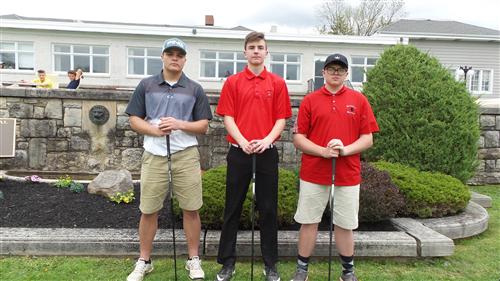 CCAA Division II East Sectional Qualifiers from Bartlett Country Club:
L to R: Braden Siebert, Jarret Pond and Brandon Milanowski

2017 Golf Season Awards and Recognitions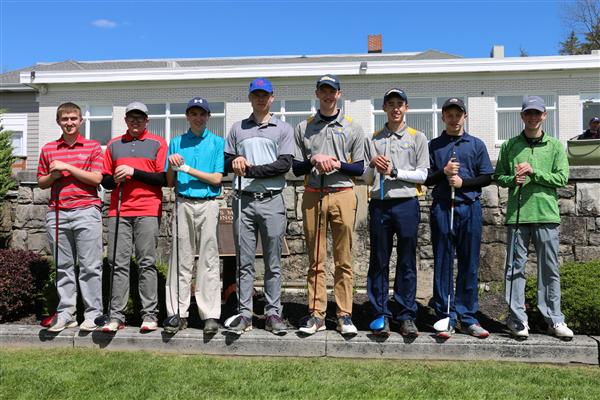 CCAA Division II East Sectional Qualifiers from Bartlett Country Club:
L to R: Jarett Mathes, Portville, 101; Brandon Milanowski, Salamanca, 103; Jacob Goodenow, Catt-LV, 93; Daniel Taapken, Catt-LV, 92; Dylan Burton, Franklinville, 97; Jake Pollock, Franklinville, 86 (Medalist); Branson Morrison, Randolph, 88; Sean Campbell, Allegany-Limestone, 105 (alternate)
Salamanca Golf Members competed at Sectional Qualifiers at Bartlett County Club: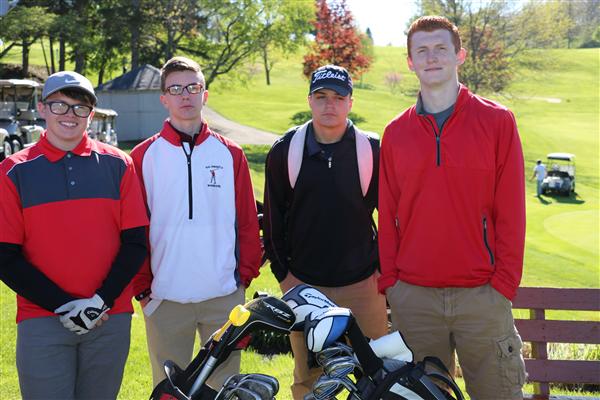 L to R: Brandon Milanowski (103, Jarrett Pond (106), Braden Siebert (108) and Mike Collins (112)
2016 Golf Season Awards and Recognitions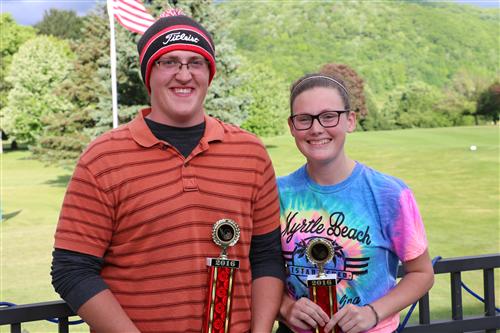 Team MVP: Matt Fuller (Medalist 15 times, 41.3 scoring average)
Sportsmanship Award: Emily Griffin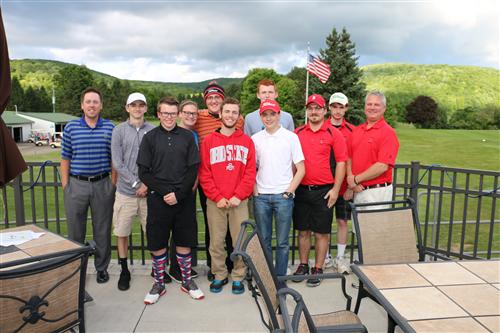 The Team and Alumni played their annual team scramble prior to the Awards Banquet.