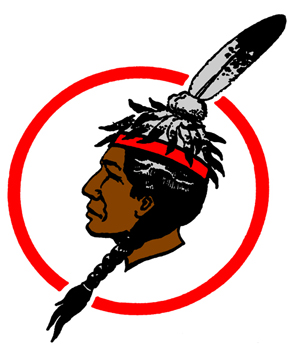 Congratulations to these Boys Varsity Basketball players for winning the following team, league and regional awards:
Zeus Enriquez - CCAA East I First Team All-Star, Big 30 Boys Basketball Second Team All-Star, Big 30 Exceptional Senior, Team MVP
Michael Collins - CCAA East I Honorable Mention, Most Valuable to the Program, Scholar Athlete
Derek McClure - CCAA East I Honorable Mention, Coach's Award
Joe Sherlock - CCAA East I Second Team All-Star, Big 30 Exceptional Senior
Hercules Rasha - CCAA East I Second Team All-Star
These players and their teammates helped our Warriors win 15 games this season, the most wins since the 2001-02 season. Coach Bennett would again like to thank the community for its support, and looks forward to seeing you again next season. Go Warriors!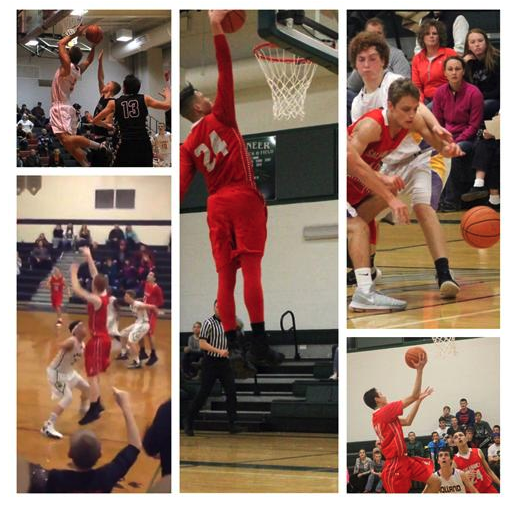 Winter Season - Bowling:
Girls Varsity Bowling Team "All-Scholar Athlete Team" for NYS for the Third Straight Season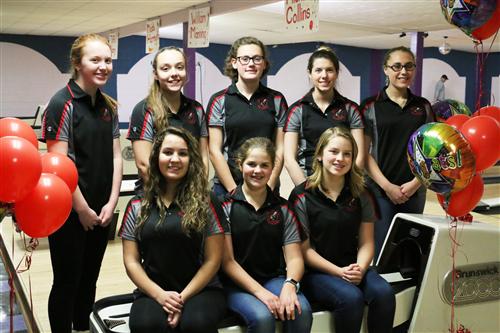 Bowling Team Awards
Tiffany Nary – Team MVP, 144 Average; Maddi Harrington – Team Sportsmanship Winner; Xander Edstrom – Team and League MVP, 202 Average; William Manning – Team Sportsmanship Winner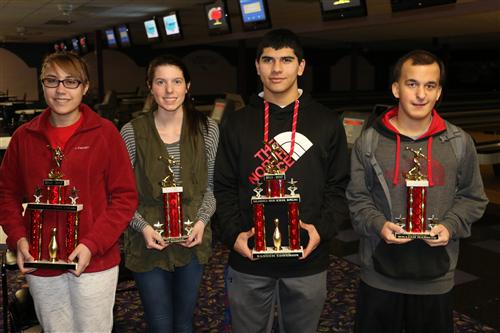 Tiffany Nary named ALL-WNY Scholar Athlete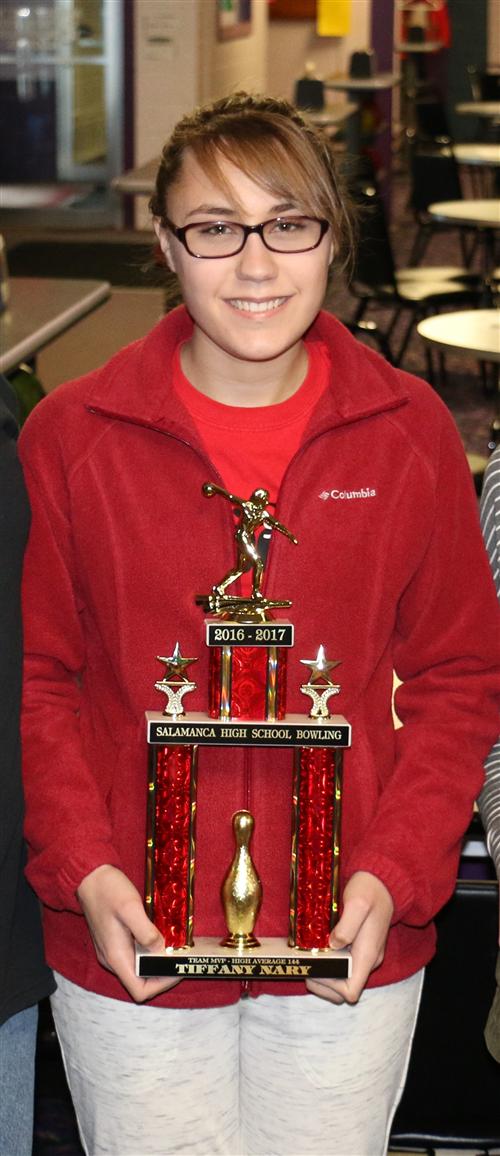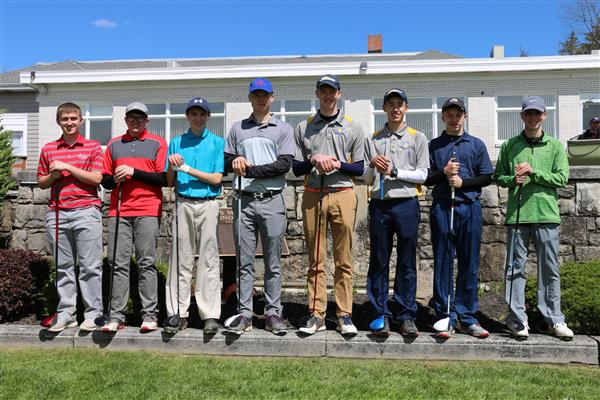 CCAA Division II East Sectional Qualifiers from Bartlett Country Club:
L to R: Jarett Mathes, Portville, 101; Brandon Milanowski, Salamanca, 103; Jacob Goodenow, Catt-LV, 93; Daniel Taapken, Catt-LV, 92; Dylan Burton, Franklinville, 97; Jake Pollock, Franklinville, 86 (Medalist); Branson Morrison, Randolph, 88; Sean Campbell, Allegany-Limestone, 105 (alternate)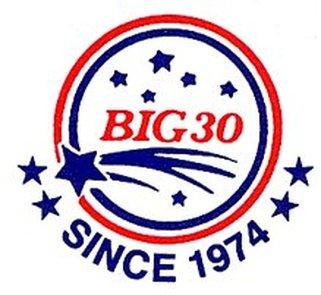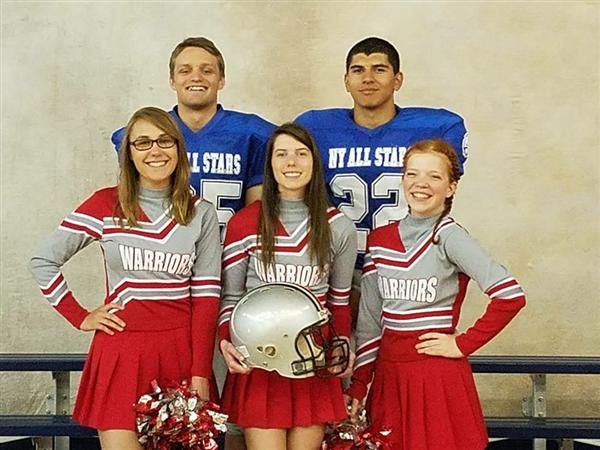 Congratulations to Senior Cheerleaders: Tiffany Nary, Madalyn Harrington and Mickenzie McAuley and Senior Football Players: Derek McClure and Xander Edstrom who were selected to play in the Big 30 Charity Football game. Game will be held Saturday August 5, 2017 - Parkway Field, Bradford, PA.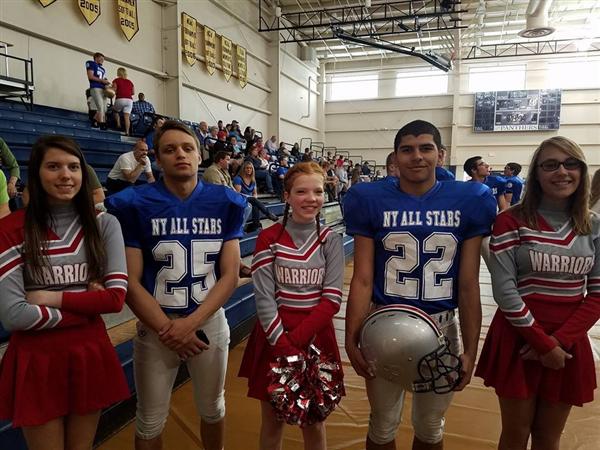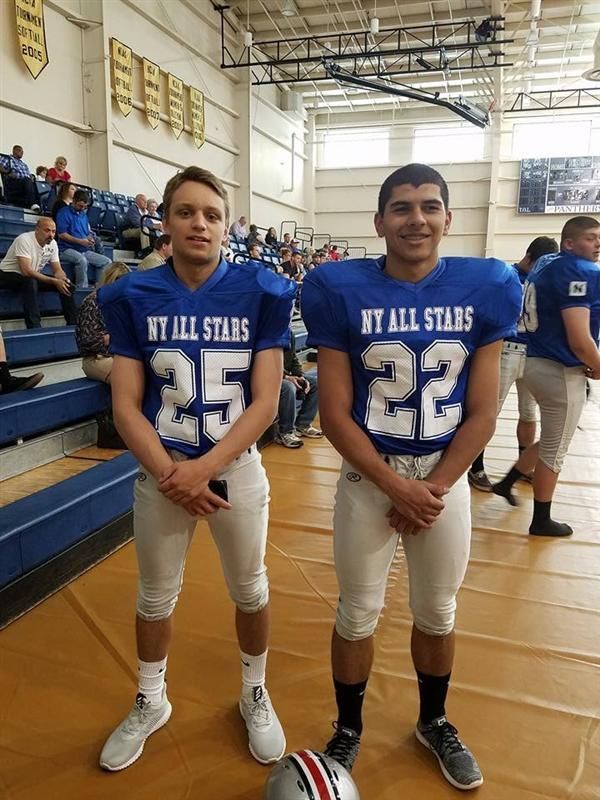 Track and Field - Spring 2017
Congratulations to Mushirah Sheppard who placed 2nd at Regionals and will now advance to States. Mushirah cleared 10' in the Pole Vault.
Best of Luck - States will be held at Endicott-Johnson this weekend.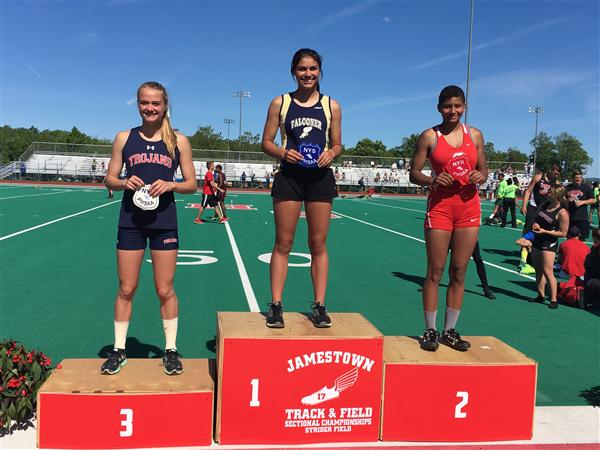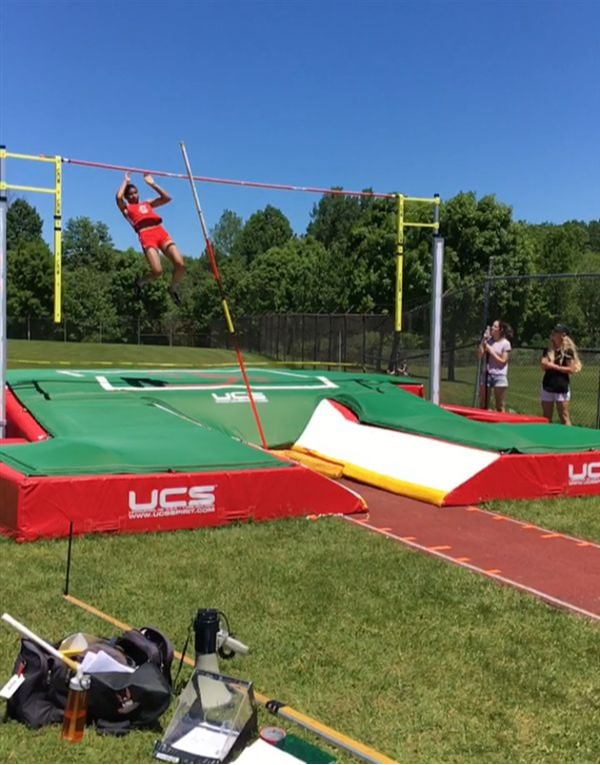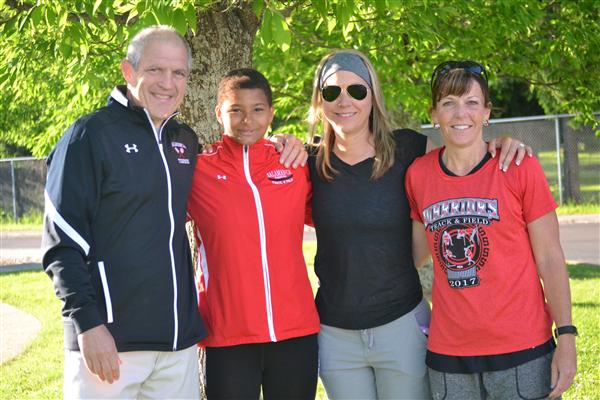 2016-2017 Athletic Awards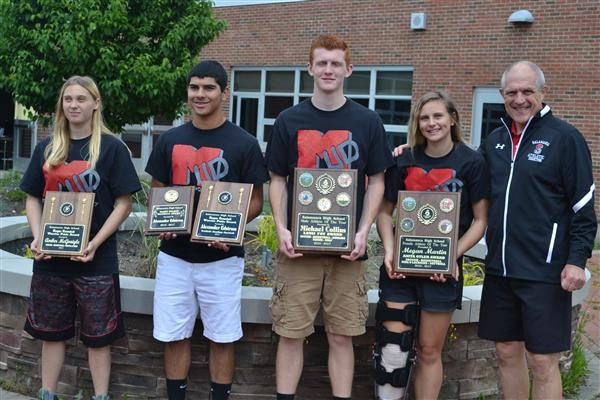 Warrior Pride Award: Amber McGonigle and Xander Edstrom. Xander was the recipient of the Harry Nelson Baseball Award. Male Athlete of the Year - Michael Collins and Female Athlete of the Year - Meagan Martin along with Athletic Director - Rich Morton.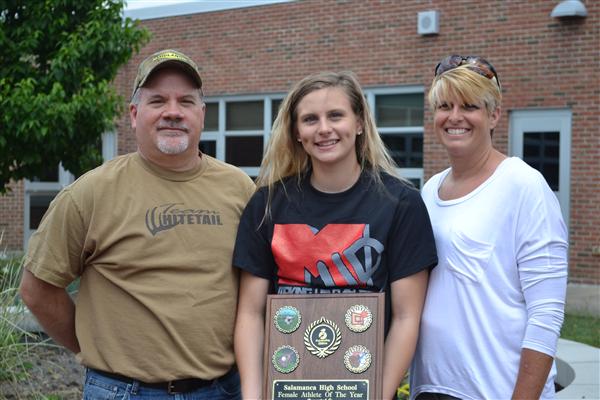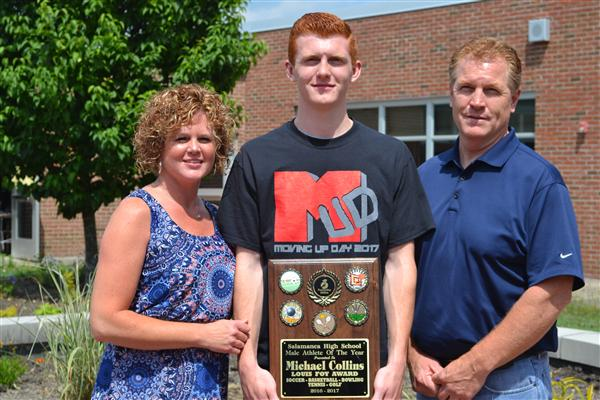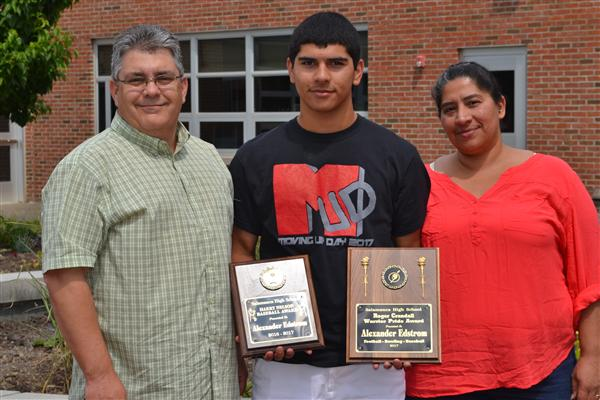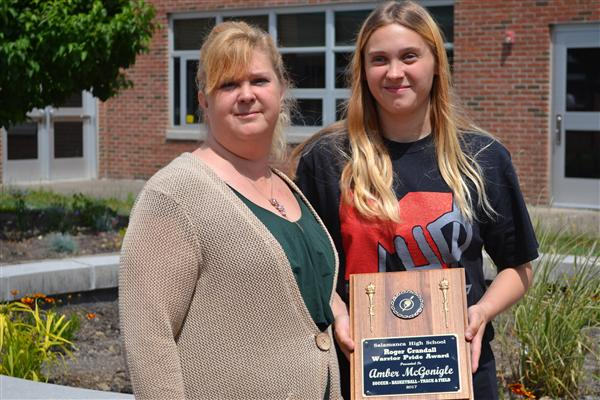 Salamanca High School Athletic Awards: June 12, 2017
ROGER CRANDALL WARRIOR PRIDE AWARDS:
Amber McGonigle
Track Coach Comments: Amber has only had one season with the girls track and field team but it has certainly been impactful. When Amber comes to mind, I think of enthusiastic, cheerful, team player, responsible, trustworthy and an overachiever. She is one of the most coachable student-athletes I have ever the pleasure to work with. Amber had perfect practice attendance, coming each day with a smile on her face, ready to do whatever was asked of her. Her optimism on life is refreshing. Amber always gives her best, and finds a way to be a role player in the success of her team. She has incredible tenacity when she takes the field. Amber competes with a champion's heart and it is obvious she never considers giving up regardless of the circumstances. She is an inspiration to her teammates, her classmates and friends to any fan that has watched her. I know she will find success in the world of sports at some level as she pursues her college career.
Basketball Coaches comments: I had the pleasure of coaching amber for two years. I will miss her a lot next year, she was a great asset to the basketball team this year. Amber made league Honorable Mention. She averaged 4 points and 3 rebounds per game. Amber played with tremendous heart and passion. She exhibited great character throughout the season. She led by example and was extremely positive.
Soccer coach Comments: One of the most difficult and challenging positions to be in on a skill based sports team is that of a brand new athlete. This player joined the soccer team in her junior year. Although she struggled at first with some of the skills, her hard work and never give up attitude certainly affected how quickly she caught on. When her play was struggling in certain situations, she would listen to constructive criticism with grace and would return to the field with a new focus and determination. She is the type of player that would knock down an opponent in a game and she would stop playing to help her up. Sometimes she was the player that got knocked down, but she jumped up very quickly and resumed play. Due to her caring and sweet disposition, her hard work and passion for success, her teammates were SO excited for her. These qualities are what make her so deserving of this award.
Xander Edstrom:
This athlete bowled 3 seasons and was First Team All-Star every season. The past two seasons he was team and League MVP! His 736 Series this past season is a new school record. His 206 average is the best average in school AND League History. The team success was his priority, and the Warriors were very successful. 3 League Championship, 127 wins and 9 losses, two 2nd Place Finishes at Sectionals, and one Sectional Championship. Coach Jankowski states "He understands the game better than anyone and he practices more than anyone. He has won thousands of dollars in scholarship money and will be the first male bowler bowling in college. He is one of, if not the greatest bowler in school history."
Xander Edstrom – Harry Nelson Baseball Award
Standing in front of you is a young man who exemplifies how a baseball player should conduct himself on and off the field. From Day 1 of practice until the end of the season he's led by example. His passion for the game and maturity play a large role in how he conducts himself as a leader. Through practice and hard work, he was nominated to second team honors in league, voted on by opposing coaches. His skills were highly noticed by all coaches. He not only commanded the respect of his teammates but by opponents as well. He will also be participating in the Chautauqua-Cattaraugus Senior All-Star game this week. Good Luck.
Louis C. Foy Male and Anita Oyler Female Athlete of the Year:
Female Athlete of the Year:
Meagan Martin– 5 year starter for the SHS Varsity Softball Team. In 8th Grade she earned Most Improved Player award, 9th grade she was the Team MVP and CCAA East First Team All-Star, as a sophomore she earned the team's Most Dedicated Award and 2nd Team CCAA All-Star, As a Junior she earned the Honorable Mention for the CCAA East. As a Senior, unfortunately she suffered a season ending injury on the lacrosse field and only played in Softball's first game where she dominated at shortstop and led us in a win over Ellicottville. Outside of Salamanca, she played on the Olean Synergy Travel softball team which won several tournaments while she was selected to several All-Tournament Teams. She has an outstanding work ethic, proven leadership skills, can play any position on the field and has willingly offered to play wherever she is needed. Her softball and athletic skills are phenomenal.
Meagan was an important part of our basketball team. She led by example by working hard every single day in practice, being extremely competitive and never giving up when things got tough. Her hard work and determination will make her very successful. I really enjoyed coaching her this past year and will miss her next year.
Even though she is a defender by nature, this player had no problem becoming an offensive leader on the girls' soccer team this year. After the first game, she suffered an injury that forced her to sit out three games. Even coming back at about 75-80%, we were a different team with her on the field. A lot of times recognition for winning games goes to the GK for the saves that she makes. Other praise goes to the players who scored the goals. Not a lot of glory goes to the assisting goals in season. This player led the team with assists. She plays the game with no nonsense type of attitude. She is physical and will win the ball in the air as a header or on the ground with a slide tackle if necessary. She has literally played almost every position on the field, from goal keeper to stopper, to center middie and occasionally as a striker. Her hard work and success over her varsity career has led to additional recognition. She was a CCAA East Division honorable mention in 10th grade and second team all-star in her junior and senior years. Her leadership on defense was crucial towards the 2014 team being league champs and sectional finalists. Thank you for your dedication, passion and TRUE leadership to the game of soccer!
Male Athlete of the Year
Michael Collins– 2 year Varsity Baseball Captain and two-time CCAA East I All-Star. He was the only member of the Varsity Boys Basketball team to be named ta New York State Scholar Athlete and was named Most Valuable to the program by Coach Bennett and award that's only been given twice in program history. Michael is an example for all our athletes to follow – he always puts his team first, never complains, and consistently strives to improve. His switch to point guard, which is the equivalent to being "quarterback" on a basketball team, is a big reason our program won its most games in over a decade this year.
As a bowler, Michael won a 4 year starter for the Warriors Bowling Team that won 4 league titles and one sectional title in 5 years. He bowled his best in the tournaments and Sectionals. He was named a First Team All-Star for the 2016-2017 season. He was a pleasure to coach, was always a class act and was a huge part of the team's success over his career.
As a Golfer he was a 3 year starter, he competed in Sectional Qualifiers the past two seasons and was named an Honorable Mention for League All-Stars.
Tennis – he was a 5 year starter, Michael played 1st Doubles in 8th grade and was 1st singles grades 9-12. He competed at the County Championships all 5 years and was a team Leader and great role model for the younger players.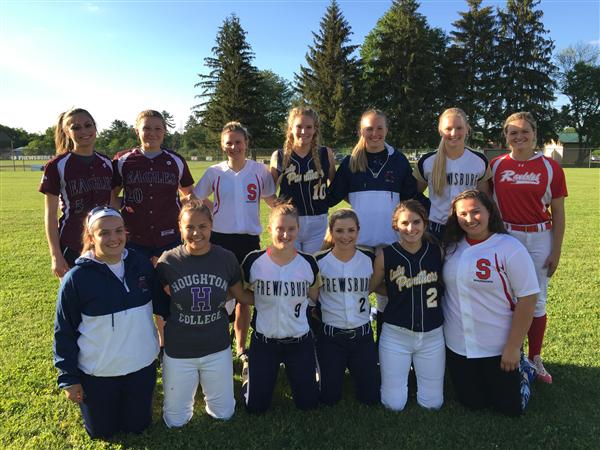 Salamanca Softball Seniors Meagan Martin and Emma Isaac were selected to participate in the CCAA Senior All-Star game. The game was played last night in Dunkirk. CCAA East won 5-4. Emma pitched 3 innings and had 5 strikeouts. She also was 2 for 3 with a double and scored the first run for East. Congratulations girls.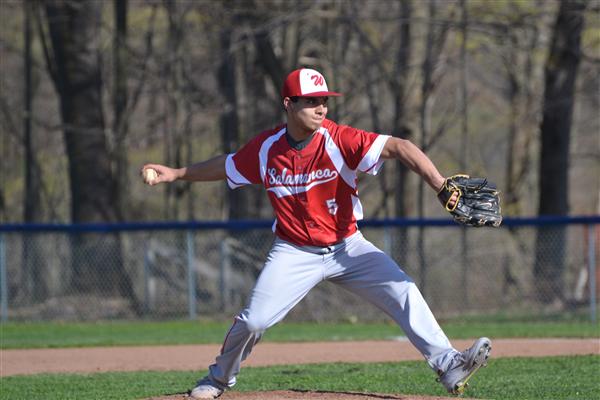 Xander Edstrom will represent the Salamanca Warriors in the Chautauqua/Cattaraugus Senior All-Star Game to be held on Wednesday, June 14th at Diethrick Park in Jamestown, NY. First pitch for the matchup will be at 7:30 p.m.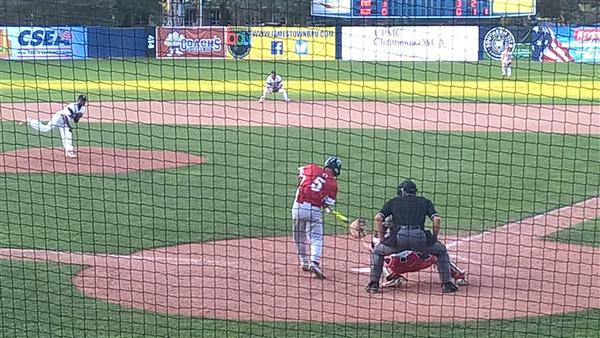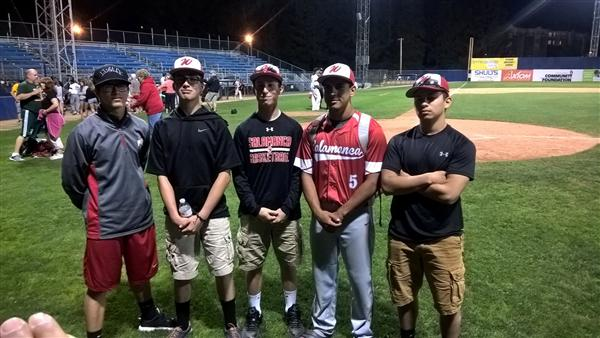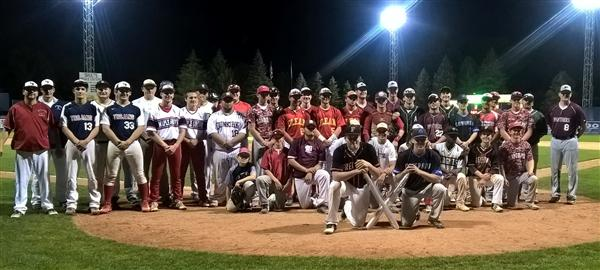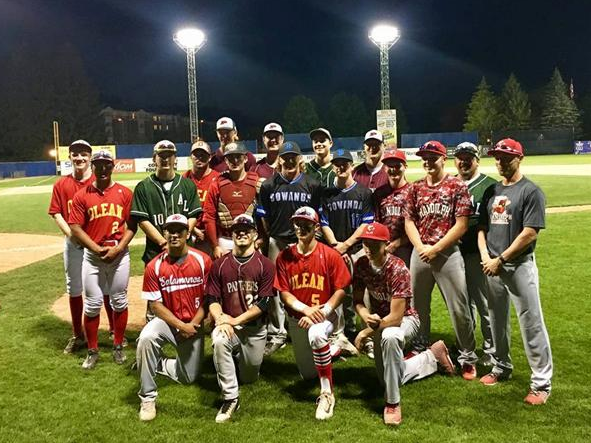 Girls Varsity Softball
Most Improved Players-- Emma Fiske, Jordan Ray
Coaches award-- Courtney Sherwood (also earned Sportsmanship Award and Honorable Mention All Star from CCAA League)
Team MVP-- Emma Isaac (also earned 2nd Team All-Star from CCAA League)
The Lady Warrior Softball team also earned the Scholar Athlete Team from Section VI.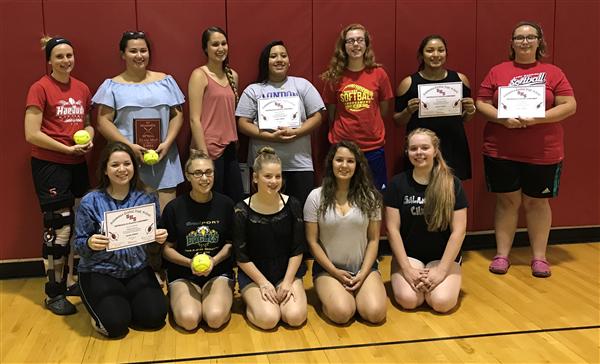 Boys and Girls Track and Field:
The Salamanca Boys and Girls Track Team held their End of Year Banquet last night. Congratulations to our Girl Award Winners: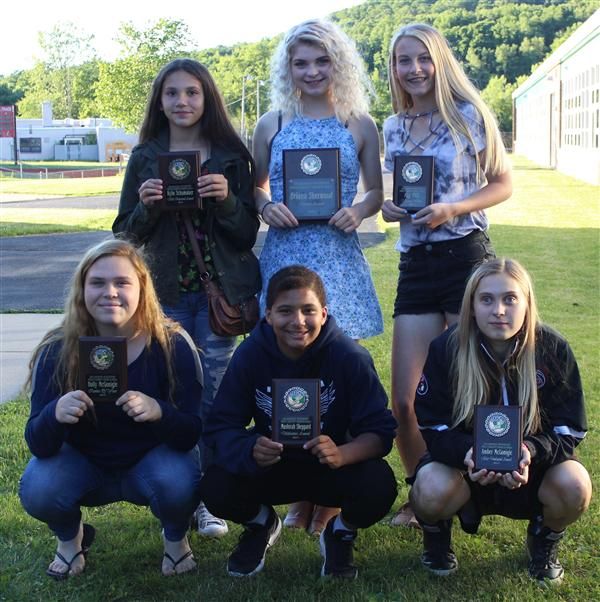 First Row: Holly McGonigle- Rookie of the Year, Mushirah Sheppard – Distinction Award & CCAA All-Star, Amber McGonigle – Most Dedicated Award. Second Row: Kylie Schumaker – Most Improved, Briana Sherwood – Coaches Award & CCAA Sportsmanship Award, Aly Hill – Unsung Hero
And our Boy Award Winners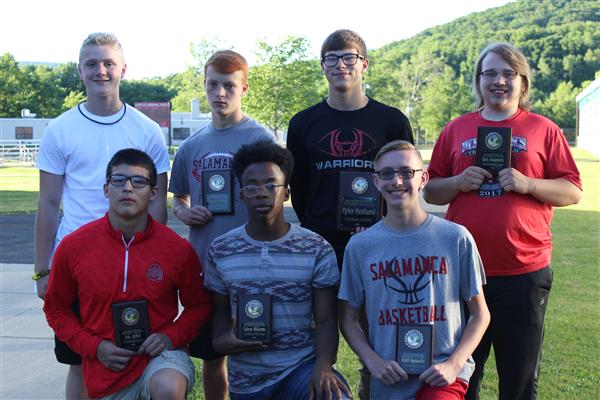 First Row: Ira John – Unsung Hero, Calvin Williams – Rookie of the Year & CCAA All-Star, Kohl Ambuske – Unsung Hero & CCAA All-Star. Second Row: Seth Bocharski – CCAA Sportsmanship Award, Zach Helms – Most Improved, Tyler Hedlund – Coaches Award & CCAA All-Star, Kristopher Kranock – Most Dedicated