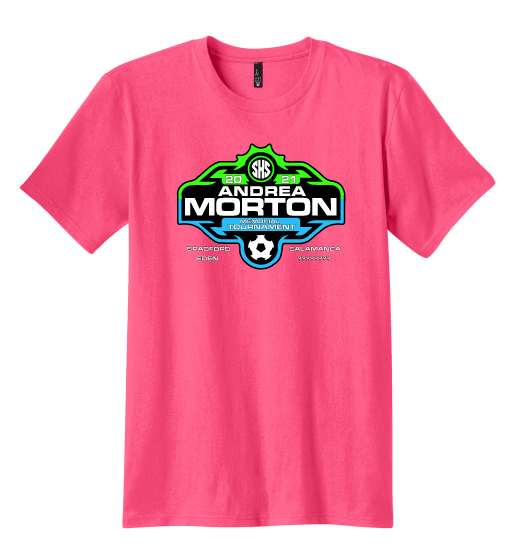 Andrea Morton Memorial Soccer Tourament Set!
The varsity girls soccer team will resume their annual tournament in memory of Andrea Morton, daughter of two recent SHS retirees: Julie & Rich Morton. The 2021 tournament t-shirts are $15. (Please add $4 for XXL-XXXL) All proceeds will go the scholarship in her memory. If you are interested in purchasing a shirt or making a donation to the scholarship, please email Michelle Hill - MHill@salamancany.org, Kersten Furlong - KFurlong@salamancany.org or Sam DeBoy - SDry@salamancany.org with your order.
All orders are due by August 25, 202 (In order to get them by our tournament which is on September 3rd and 4th.) We can take payment when your shirt arrives.
Just a little bit about Andrea Morton:
Andrea was a graduate of Salamanca High School, Class of 2006, where she was the class Valedictorian. While at Salamanca, Andrea a member of the National, Science and Spanish Honor Societies, played 5 years of Varsity Soccer, played JV and Varsity Basketball, was on the regional travel league soccer team, Varsity Track, was in the Drama Club, the Concert Band, the NYSSMA Woman's Chorus, Jazz Band, and The American Music Abroad European Honor Choir.
Andrea performed with many local and regional theater companies, including Chautauqua Opera. Andrea was a National Anthem vocalist with her sister Brittney, for the Buffalo Bills and St. Bonaventure University Basketball Program. Andrea was a Channel 7 Student/Athlete of the Month, the Regional Exchange Club Student of the Year, and performed with Enchante Cabaret Dinner Theater.
She was a junior at Ithaca College, in Ithaca, New York, where she was a Physical Therapy Major and a Music (voice) Minor. While at Ithaca, Andrea was a full-time Resident Assistant, Fitness Center employee, an Admissions Ambassador, member of the PT Club, the Woman's Chorale Singers, she played on the travel Club Soccer Team and Intramural Indoor Soccer Team. Andrea was a finalist in the Ithaca Idol competition, was inducted into the National Oracle Society, was a Water Safety Instructor and blood donor for The American Red Cross, and performed at The Avery- Fisher Hall in NYC. Recently Andrea was the recipient of the Peggy R. Williams Presidential award for academic excellence and was a Dean's List scholar. Andrea traveled with the Ithaca College department of Health Sciences and Human Performance, to Beijing, China to study physical therapy and rehabilitative services.
She was a member of Our Lady of Peace Parish in Salamanca and was a worship team leader and musician at The Vineyard Church of Ithaca.
Andrea and her teammates petitioned the BOE for the creation of the first-ever all female Varsity SHS Soccer Team in 2001. Andrea played Varsity for SHS from grades 7 – 12. Prior to 2001, she played on the co-ed varsity team. She was captain grades 11 and 12. Varsity MVP- grades 11 and 12, Coaches Award for leadership grades 10, 11, 12. CCIAC Division I All-Star Honorable Mention in 2003, CCIAC Division II All-Star in 2004. League Officials Sportsmanship Award Senior year- 2006. Scholar-Athlete Every season. Channel 7 Scholar-Athlete of the month in 2005. Recipient of The Timothy Ross Memorial Award for Outstanding Female Soccer Athlete in 2006. Following graduation at SHS, Andrea attended Ithaca College, where she played on the Woman's Club travel soccer team, and participated in the IC intramural indoor soccer program in the off-season. Soccer was Andrea's passion.
It is with honor, that the 2021 Salamanca Girls Soccer Team holds their eighth Varsity Soccer Tournament in memory of Andrea Morton.