Monday, October 24th, 2:30pm-3:30pm - Informational Meeting for New or Returning Project SAMI students and Cattaraugus County Career [Exploration] Academy
This meeting will introduce new and returning Salamanca students to the Project SAMI Workforce certificate program, which has a new set of requirements and exciting opportunities for students, unique to this school year.
What is Project SAMI?
Project SAMI is a comprehensive college certificate program where students may study one of seven high-impact, college majors in drone inspections, manufacturing technology, business management, and cybersecurity.
Additionally, Salamanca is partnering with Southern Tier West in Olean to offer a companion enrichment program for students in Agriculture/Wilderness Land Management, Manufacturing Technology & Business Management.
Every other week, Salamanca High School students will have the opportunity to hop on a Salamanca bus to Olean to join the Cattaraugus County Career Academy (CCCA) for job exploration, soft-skill development, guest speakers, and hands-on equipment workshops. Students who participate in this CCCA program receive a $500 stipend.
Salamanca students do not have to be enrolled in the SAMI program to enroll in CCCA (the limited seat CCCA program is open to all Salamanca students); however, all SAMI students are strongly encouraged to participate in CCCA because of its complementary activity content.
Both SAMI & CCCA are limited seat programs, with admission requirements, first come, first served. New or returning SAMI students must attend this mandatory information meeting in order to get all their application materials submitted on time.
Pizza is provided at the meeting.
Any questions? Please see Mr. Straus in the HS Maker Space or Dr. Hayes in the HS Earth Science classroom.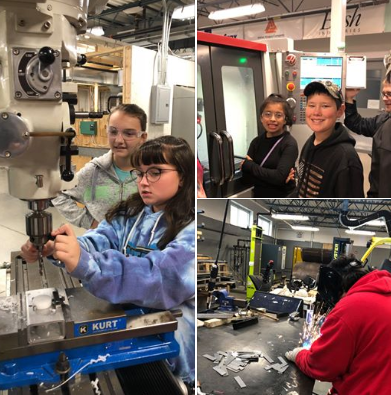 Friday, October 28th 8:30am-2:15pm

- Manufacturing Field Trip to Eaton (Electrical), Keystone Tool Die & JCC MTI Center
Students will have the opportunity to tour manufacturing facilities, Eaton & Keystone Tool and Die in Olean, NY to explore the products made in the region, the technology within the facilities and the career opportunities that are available for them. There are limited seats to this field trip, first come, first served. Pizza lunch is provided.
Any questions? Please see Mr. Straus in the HS Maker Space or Mrs. Hawkins in the HS Library.