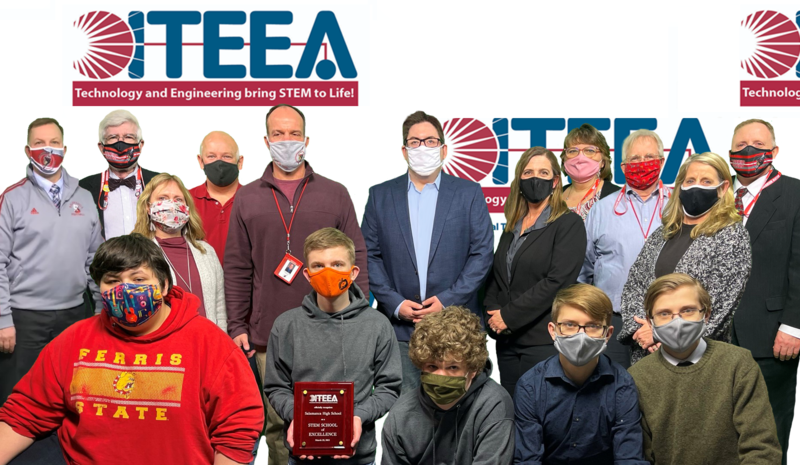 SALAMANCA HIGH SCHOOL EARNS INTERNATIONAL AWARD IN STEM EXCELLENCE
Salamanca, NY – Salamanca High School was named a recipient of the STEM Excellence Award by the International Technology and Engineering Educators Association (ITEEA). The prestigious award is presented to outstanding schools for their commitment to providing a robust integrative STEM education program. "To receive this accolade, the high school underwent a rigorous (29) criteria assessment process," said High School Principal, Christopher Siebert. "Evaluating areas such as the number of STEM career pathways, quality of STEM outreach projects, and total advanced STEM degrees held by the staff members, and Salamanca is the first New York high school to hold this title."
Salamanca City Central School District launched its K-12 STEAM Initiative in 2015, to build 21st Century workplace skills and narrow achievement gaps. "At the time our district decided to alter its approaches on how and what students would learn," said Superintendent, Robert Breidenstein. "A portion of that plan involved investment in Science, Technology, Engineering, Art, and Mathematics, or STEAM education."
The High School's STEAM program first gained recognition in the 2017-2018 school year, when the Warrior Robotics team loaded their makeshift drivetrain robot, to compete in the regional FRC Finger Lakes Regional Competition. "We were competing against seasoned teams that had been doing this for about 20 years," said high school senior, Connor Klute. "I'll never forget the overwhelming and unforgettable excitement that first year when we were called for that award." The new club placed 26th and took home the Rookie Seed Award for their innovative robot design.
Afterward, students in the Space Flight Experiment Club won a regional commendation, where they submitted an experiment proposal to be facilitated by scientists on the International Space Station. "We proposed investigating Arthyrospira Platensis because of its use in treating radiation sickness, an issue in outer space, as well as lowering blood pressure, and reducing cholesterol," said eleventh grader Aliyah Lee, who is also active in the new STEAM ESports Club, a competitive school sport for video gaming & technology exploration. "Arthyrospira is also rich in vitamins, beta-carotene, antioxidants, mineral, and essential fatty acids."
Salamanca was further applauded by officials for its sustainability-focused "STEAM-Adventure Camp," a summer School program that helped earn the high school a Schools on the Move, designation by the WNY STEM Hub in 2019. "One of the goals our homegrown STEAM summer school program is to help bridge the gap between school and summer," said Aaron Straus, the district's STEAM Coordinator. "These added experiences allow them to get excited for different Science and Technology outlets that they might see or elect to take during the school year.
In 2019, The district adopted WozEd K-12 Pathway curriculum & kits in Drones, Coding & 3D Printing for the district's curriculum, which strengthened the student's technical skills in product design. "Salamanca schools are proud and excited to become the first Woz Ed Career Pathway school district," said Dr. Mark D. Beehler, Deputy Superintendent for the Salamanca City School District. "For the past several years, our teachers have been incorporating STEAM-based learning across the K-12 spectrum and developed a solid curriculum. "But after experiencing the Woz Ed STEAM kits, our educators realized the value in implementing this comprehensive solution."
This same year, Salamanca High School students competed in the Project Nanoline Competition via teleconference with judges and other teams at Elizabethtown College in Pennsylvania, before the pandemic forced schools to practice distance learning. The students created a driving simulator that incorporated Phoenix Contact Nanoline PLC technology. "After six intense weeks of designing and troubleshooting a working prototype, we competed at the Nanoline and were awarded the Excellence in Engineering Award," said 2019 senior, Kohl Ambuske. "The STEAM program has broadened my knowledge and gave me a sense of curiosity about how things work.
The high school's Warrior Robotic team returned to the FRC, this time for international competition in Quebec City, Canada, and took home yet another award. "Even though we technically weren't rookies, it was only our second year," said high school senior, Cole Johnson. "We were shocked yet again when we were awarded the 2019 Creativity Award."
Salamanca high school also continued to support their successful Distributive Education Clubs of America (DECA) program with students competing against peers, from all over the world. "DECA prepares emerging leaders and entrepreneurs in marketing, finance, hospitality and management in high schools and colleges around the globe," said business teacher Nancy Middaugh. Seven Salamanca High School students participated in the DECA International Competition, which evaluate student's ability to speak, present and work in a 21st century Collaborative team. Salamanca Senior and Valedictorian, Nyles Panus, was a finalist for the international competition. Additionally, three Salamanca high school students were inducted into the New York DECA honor society. "Going into another region and working as well as competing with other schools was an exceptional experience," said Panus. "Overcoming obstacles that are not as prevalent in the states—such as communicating in different languages--was challenging but nevertheless something we took head on."
In 2019, the high school along with its sister school, Prospect Elementary, was again recognized by the WNY STEM Hub as a "School on the Move" during the agency's annual awards reception. The elementary school, just starting its feeder STEAM program, earned a Schools on the Move – Engaged award, like the high school in previous years. Salamanca High School, meanwhile, earned an advanced notation on the award rubric. "These schools on the move exemplify a focus on STEM by getting students excited about learning and careers in STEM," said WNY STEM Hub's Executive Director. The high school then proceeded to take home a national STEM accommodation at the Future of Educational Conference (FETC) in Miami, FL for the integration of 3D printing, Engineering Design & Advanced Technology in the non-STEM subjects.
"Our program reflects a great deal of dedication and hard work by many people, including Salamanca High School's students, faculty, and parents in the greater Cattaraugus community," said Straus. "It is a great honor to be able to work with a devoted group like this and to see our collective efforts recognized and honored by local, national, and international organizations."
Salamanca High School further garnered attention in 2020 by non-Educational professionals for its programmatic applications at the eve of the COVID pandemic. In 2020, New York state was crowned the epicenter of the U.S. coronavirus outbreak. At that time, doctors, nurses, and first responders reported dire shortages of protective gear. The region's Health Department announced the Office of Emergency Services was taking donations of handmade masks to distribute to healthcare workers and community members in need. "Like many districts across the nation, our district was closed, and the school was on a remote education plan," said Straus. "Deeply troubled by national news, and seeing an opportunity for the program to help, we asked the district administration to let a small team into our STEAM Center to manufacture protective equipment on the 3D printers in person and remote. Our team got the OK on March 30, 2020, and by the next day, faculty and remote students were printing their face masks and shields for first responders."
Along with this, Salamanca's STEAM program creatively applied GIS mapping and Cellular Wi-Fi Technology to help solve another problem that arose as a result of the pandemic. The STEAM program worked with district officials to help identity, map, and prioritize the delivery of home internet to area students, who were without internet broadband connection during the pandemic," said Straus "and to coordinate the purchase and dissemination of 90 4G Wi-Fi devices, which were distributed to remote Salamanca families who lacked a direct cable run. "This led to the New York State School Board Association conferring Salamanca High School's STEAM Center a state-wide title of Champions of Change, an honorary title, given to one New York school district per a school year.
Salamanca High School's student body is composed of over 37% Indigenous population and 64% of the District is economically disadvantaged. More than half of the high-school students who participate in the STEAM program are from economically or racially underrepresented households in the STEM occupations. "We remain humbled by this international accolade and committed to supporting STEAM education through the pandemic and after it is over," said Straus as he put the finishing touches on an 79-page grant application, with he hopes will fund the next generation of Salamanca STEAM programs.
To learn more about the Salamanca City Central School District visit www.SalamancaNY.org. You can also find us on Facebook at www.Facebook.com/SalamancaWarriors.