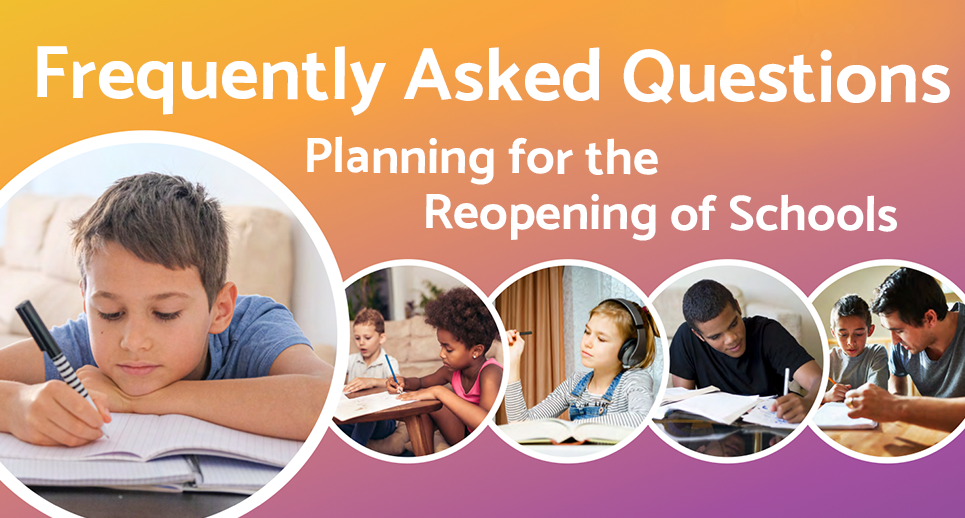 Frequently Asked Questions
Questions from August 13 Open Forum:
Will the children be COVID tested prior to being allowed back to school?
The district will not be testing all students or staff for COVID 19. Anyone who enters any of our school buildings will undergo a general health screening that includes questions related to travel, symptoms of COVID-19 and a temperature reading.
I was just wondering how the E-Learning will be structured? I know that my son (9th grade student) would do much better if he was able to still have class lessons even if through Zoom calls or YouTube Videos to be more like in class learning.
E-Learning will look a little bit different depending upon the age of the student. After feedback from the spring there are several changes. A rubric of expectations for student work and behavior online is being created by teachers, parents, and students. ClassPages is the learning system that will be used for all grades and will be open for students and parents. It is secure so only those students and parents with access will be able to view content. For high school students- teachers will provide a lesson electronically and then have hours set for students to work collaboratively through Zoom. For students at Seneca and Prospect- teachers will provide a schedule for instruction during the normal school day that parents/guardians and students can choose from for online instruction. Students will also be provided with additional work.
I am aware some districts are providing resources for essential workers who are seeking childcare. What is our district doing for parents who are seeking these resources?
Salamanca Schools have partnered with Accord Access who will assist with coordinating services. They can be reached at 1-585-268-7605.
How long will high school students be on remote learning? My daughter does much better in person or hybrid and not completely remote. She struggled at the end of last year and I don't want her education to suffer.
We completely understand- at this point, we plan to phase in as many students as we safely can but will be focusing on the youngest students first. For upper level students who need to come in because they are struggling, we will work with the student and family to bring them on to campus as needed for help.
I have children in Prospect and Seneca, are staff and students going to have to quarantine for 14 days before coming into the building?
Students will not be quarantined prior to coming to school. They will be screened daily for general health and travel status including temperature will be taken via thermal camera.
What about children with IEPs that need speech physical and occupational therapy as well as schooling my son will be in 1st grade I also moved from Gowanda to Salamanca.
First- Welcome to Salamanca, all IEPs will be followed and parents/guardians should receive a phone call from Mrs. Dudek or Mr. Parisi within the next week to answer specific questions. Physical and Occupational Therapies will be performed as necessary. The particulars about process are being worked out.
Is there a 5 day option for attendance?
At this time we cannot offer a 5 day option for attendance on campus for all students. There are some students who have special needs that will be on campus for 5 days a week. Please contact your principal to discuss your individual needs.
As a staff member who has seasonal allergies, is that something that administrators and school nurses should be aware of?
Seasonal allergies may present some of the symptoms of COVID-19 so it may be helpful to notify the school nurse or your supervisor. You do not need to stay home if you have seasonal allergies.
Will there be band available still? How do you plan to keep 1st graders excitement calm and what would their day look like?
We will still provide instruments as well as band and lessons to our students. We want our students to be excited about school and understand their need to move about. We will provide
What will a school day look like for Seneca Intermediate? Will they be e-learning at school as well?
Students at Seneca and Prospect will remain in their classrooms as teachers come in and out of the room as necessary to provide support services or content specific instruction. They will not be required to wear masks if they can distance properly. Additionally, they will be provided a recess or physical education class period. They will not be e-Learning while in the classroom, we will teach as close to 'normal' as possible.
Will there be any repercussions for students that cannot keep their masks on during the whole school day? Are students required to wear them all day or what is that process?
Students are required to wear a mask when on the bus, while moving around the building, and while they cannot maintain appropriate distance requirements. If a student is disobedient or defiant about wearing a mask, the code of conduct for misbehavior will apply. If a young student simply takes it off or is exhausted, we will work with that student to ensure their safety and those around them. We are not instituting a police state but do need to follow safety rules.
Has or will the school ventilation system be examined to confirm it meets the standards necessary for safety for COVID exposure much like the shopping malls needed to meet?
The school ventilation system is different from shopping malls in that it meets the state requirements for total air turn over, meaning all of the air in a room is replaced by fresh air instead of simply filtering and recirculating. While a portion of the air is filtered and returned the majority of the air is exchanged with fresh air from outdoors.
High School and Prospect students - are the older kids going to be permitted to use lockers?
All student should bring their supplies in a bag or backpack. Lockers will not be used while in school, so students can bring their necessary supplies with them to class.
Also, where do athletics stand?
At this point athletics are scheduled to begin September 21. In the event they are cancelled, all three seasons of athletic competition are scheduled for the spring.
What's going to happen with students who are to be attending BOCES as a graduation requirement?
Students who attend the BOCES program will still attend the program 5 days a week. We are working out details on transportation.
What about students in an advanced program? will they be given regents credit? will they be expect to take all of those exams at some point? will they be given the opportunity to take these exams and achieve "mastery"?
All advanced courses are planned to run. We do not have information about Regents exams this year but will continue to teach as if we will be giving them. Regents credit will still be provided for students. With regard to mastery, we do not have any information from the education department on that.
What about SAT testing and applying for collages? how will a pass fail grading system effect students applying for college?
The College Board, the organization that runs the SAT program, has started to offer the test again. Parents and students should contact their school counselor ASAP to get information. The pass/fail system from the spring should have little influence on college admission. We plan to go back to a traditional grading system this fall.