Did you know, Salamanca CCSD has an Urgent Care?
The SCCSD Urgent Care is open Monday - Friday during school hours 8:00 a.m. - 3:30 p.m.
In addition to treating non-emergent medical needs such as ear infections, pink eye, allergies, skin abnormalities, and more, the SCCSD Urgent Care can uniquely test students and employees for COVID-19, Influenza, Strep Throat and Urinalysis.
Salamanca City Central School District is partnering with Mobile Telemed to provide students immediate access to physical and mental healthcare services during school hours. Access to medical and mental health services in Cattaraugus County are limited.
Salamanca students can be quickly evaluated, diagnosed and treated by a medical provider by using telecommunications technology. Students get the care they need, when they need it, right in their own school community.
Telemedicine does not replace a family doctor; it provides immediate access to medical services.
Student checks in at the school health office

The school nurse initiates a call with our telemedicine agency, Mobile Primary Care

A medical provider joins the student and school nurse on a video call

The provider evaluates the patient via bluetooth medical instruments

At the conclusion of the video call, the physician can write a script, order labs and provide a treatment plan

A summary of the treatment plan is sent to the child's physician
In order to participate, a student or staff member must first enroll in the program.
Some examples of what can be treated are:
Strep throat

Flu

Bronchitis

UTIs

Pink eye

Skin rashes

And more!
All major insurance companies are accepted and will be billed accordingly through Mobile Primary Care. Patients will be responsible for co-pays and additional costs such as prescriptions.
Please contact Julianne Creed, Nurse Manager, with any questions at JCreed@salamancany.org or 716-945-5140 ext. 6203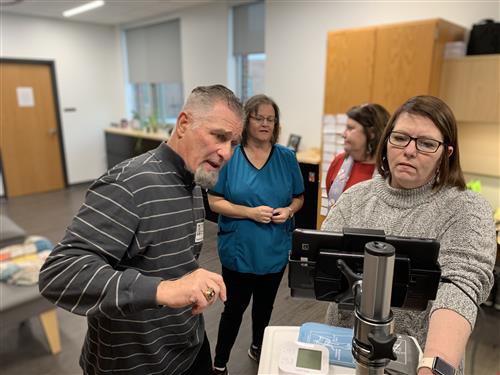 School Nurse Manager, Julianne Creed works with a Telemed representative to learn the new Mobile Med software.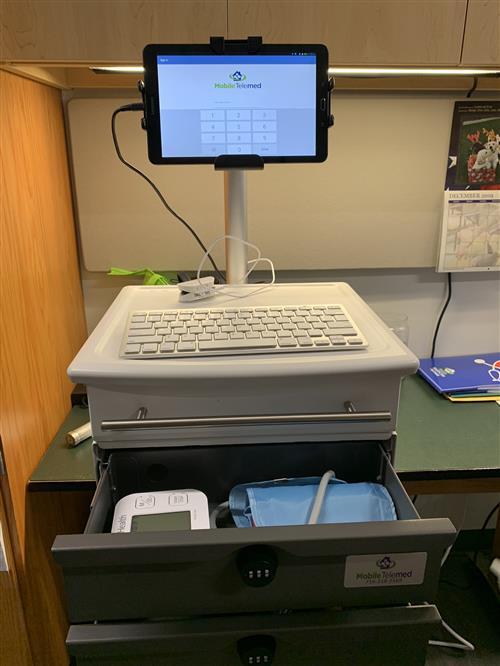 The mobile med device is equipped with bluetooth otoscope, stethoscope and blood pressure cuff.