Salamanca High School teacher, Dr. Graham Hayes has spent over 35 years as a Geographic Information Systems Programmer/Analyst/Consultant. At one point in his career, Dr. Hayes co-authored a three-volume set of GIS Implementation Guidelines for New York State. He came to Salamanca two years ago to teach Computer Science and GIS skills to High School students and to act as a pro-bono consultant for local municipal agencies. GIS is a technology which integrates digital map graphics and database records. GIS is used widely in commercial and private real estate, infrastructure management, emergency response, property management, vehicle routing, natural resource management, agriculture management, oil & gas exploration, COVID 19 tracking, cell tower placement, and even cemetery management.
Two students from Dr. Hayes' GIS class presented live demos of their final GIS projects to the Board of Education on July 22nd. Their projects illustrated the useful application of GIS to solve real-world spatial problems.
Matthew Schnaufer produced a series of sphere of influence maps for a new church plant/launch in East Aurora. He calculated the three closest households to each attendee to demonstrate how connected everyone within the congregation are and who their closest church neighbors are. While our school is not a church, the spatial process could be expanded to help communities keep tabs on the elderly, people without reliable transportation, moms in need of childcare, or even High School sports teams trying to figure out the best carpool options for transportation to and from games.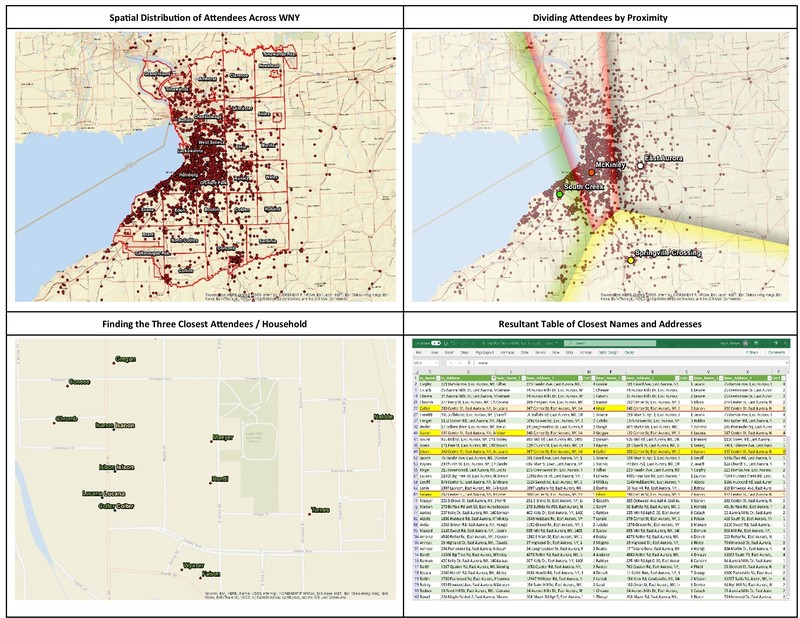 Mitchel Schnaufer's project evaluated the spatial distribution of Fire Stations across Cattaraugus County by analyzing the drive time around each fire station compared to population density "heat maps". He identified several spots where areas of higher population density were outside a reasonable fire station response time. He also made thoughtful recommendations to resolve these underserved areas by proposing new fire station locations to close the service area gaps.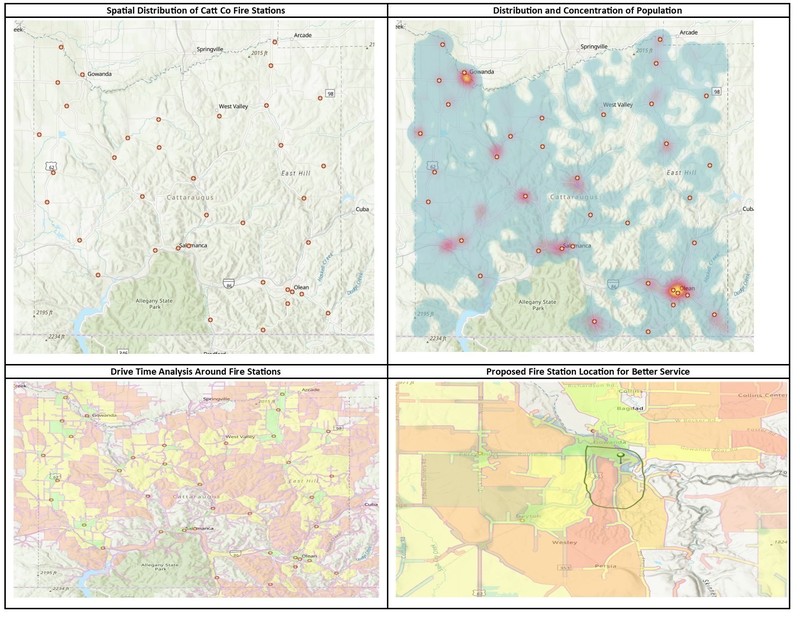 As a point of reference, GIS is currently being used by the Seneca Nation, and Cattaraugus County. It is also being considered for use by the New York State Department of Transportation, and the City of Salamanca. Dr. Hayes hopes to encourage all local and state gov't agencies and departments to take full advantage of his offer for free GIS consulting services and to seriously consider giving his students opportunities to work on GIS projects and to share their knowledge and skills working as interns in gov't offices or field operations.
You can rewatch the presentation to the board of education by clicking the video link below.